"There is a huge amount of trash that is waiting to be managed: this is the truth in which everyone must help to find a way out, and this task cannot be achieved by just one person," said Ms. Kakuko Nagatani-Yoshida – Regional Coordinator for Chemicals, Waste and Air Quality, Asia and Pacific Office, UN Environment on the stage of "Partnerships for Circular Economy" at "SD Symposium 10 Years: Collaboration for Action" recently held by SCG. Her voice is one voice among others that is urging the world to understand the importance of circular economy that can ease the world of many problems. With the rising population and the limited natural and environmental resources, combined with more demands for resources from manufacturers, the world will greatly benefit if all of us join hands to use less resources and try to use resources to its full potential.
"The principle of circular economy is a good concept, but to achieve this we need to lay out the necessary processes. Most importantly, we need to build a relationship between organizations and communities, forming multiple loops in order to create an atomic economy", said Mr. Jorge Chediek – UNOSSC Director and Envoy of the Secretary-General on South-South Cooperation
Both UN representatives agreed that circular economy is greatly needed, as the world is facing a resource crisis with dwindling resources that will be depleted in the future. Moreover, it is undeniable for the business sector to ignore this problem.
"All stakeholders must work together towards the same goal. In 2050, the world will see a severe resources crisis and if that problem is caused by our generation during the economic and social development period, we should also be the generation to come up with the solutions," said Dr. Denis Nkala – Regional Coordinator and Representative, The United Nations Office for South-South Cooperation (UNOSSC), Asia and the Pacific Office.
From Collaboration to Clear Goals and ActionsThe objective of the Bill & Melinda Gates Foundation is to uplift the quality of life and health of humans through public health services. As the foundation cannot work alone, it has been carrying out a project with SCG and the Asian Institute of Technology to build toilets for communities. With this project, the organizations have developed and build hygienic toilets to be installed in various communities.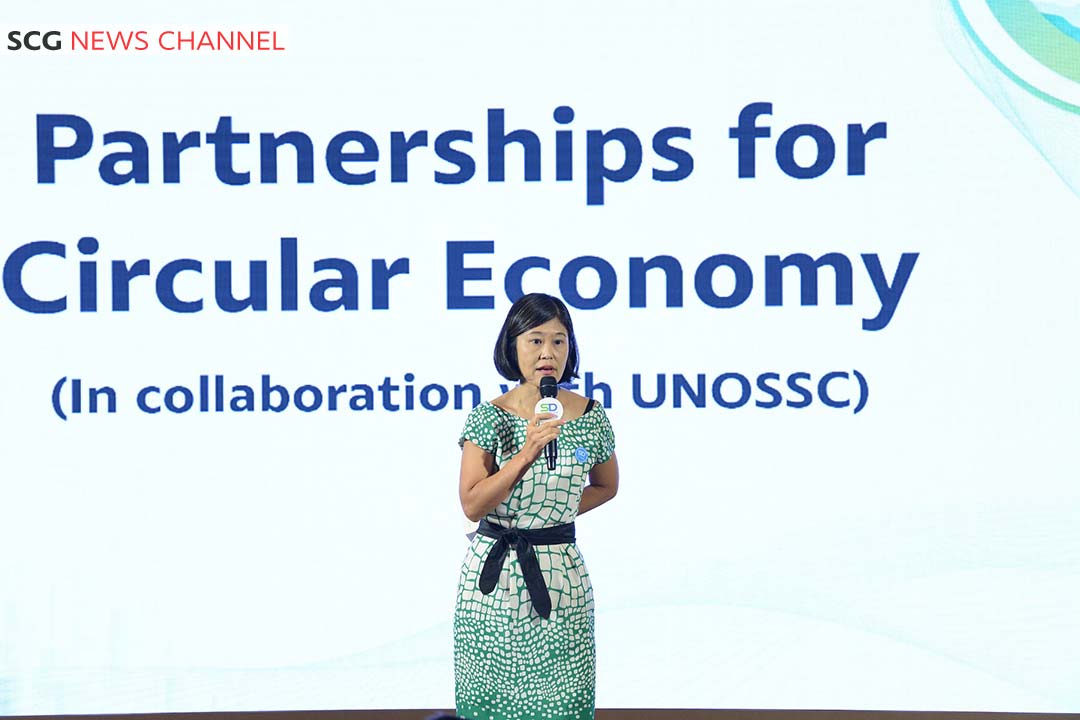 "Our goal for this project is to lower risks from diseases, as dirty toilets are the beginning of public health problems," said Dr. Doulaye Kone – Deputy Director, Bill & Melinda Gates Foundation. He added that partnership with organizations are hard to come by, as many companies are still focused on generating profits in making the shift from traditional business models to the circular economy model. "We can save a lot of lives from improving public health systems. However, many people still look at it from a business point of view, hence, there need to be exchanges."
Mr. Jorge Chedeik agreed that while organizations are working towards the same goal, they still lack communication. "We may need to eliminate the silo mentality within the organizations in order to bring everyone on the same page to sustainably develop and grow. Then, we can start looking for alliances to see how we can work with other organizations."
Meanwhile, Mr. Svein Rasmussen – CEO of Starboard, manufacturer of water sports equipment, revealed that in this era, organizations should not solely focus on sales, but they should seek business partners in order to drive sustainable growth to the industry while protecting the abundance of natural resources and the oceans. With this idea in mind, Starboard has been carrying out research and development for recycled products, especially fishing nets that has greatly affected marine life. Moreover, the company is working with Trash Hero to organize trash collection activities on beaches and engage communities and educational institutes in order to create awareness for all stakeholders about the problems of plastic waste and ocean waste.
"We have set a goal to engage everyone in the company to work together in their own way using their own expertise. For example, once Starboard decides to produce a surfboard in which 1.4 kilograms of the board is made from recycled plastics, we can immediately see how much trash we can recycle. On the other hand, if we use the income generated from products to plant mangrove forests, we will see how much area it will have, how much carbon dioxide it can absorb, and how it will help save the earth," Mr. Svein explained, further painting a picture of how we can contribute to circular economy.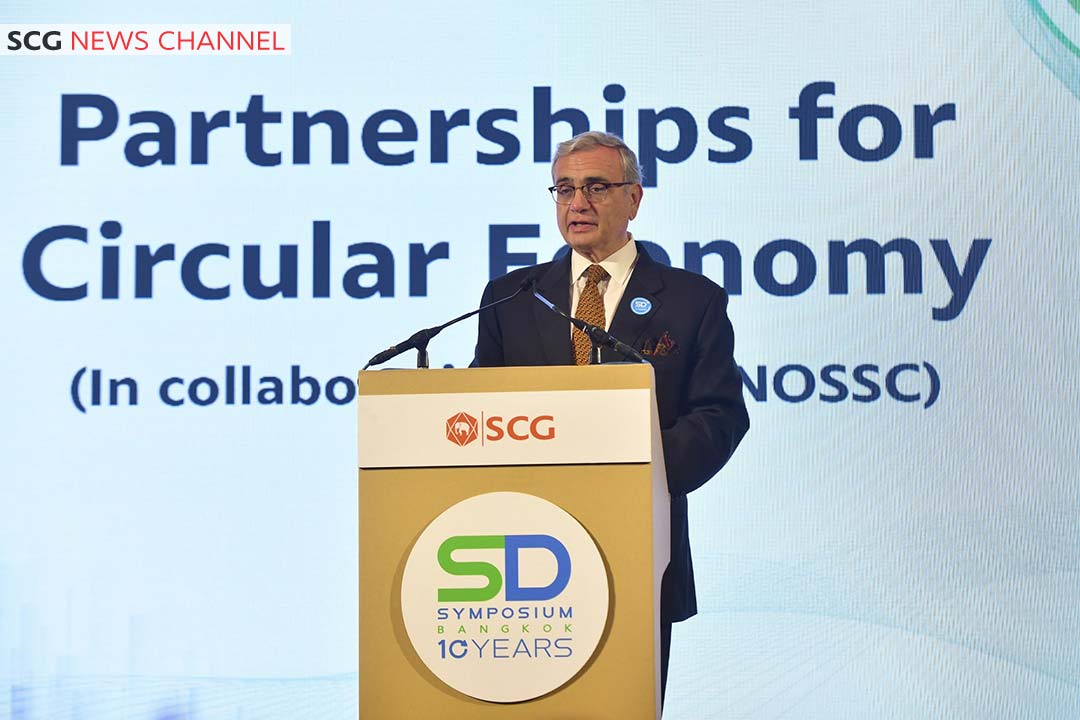 Putting Circular Economy to Use
Sustainable development is a phrase that has been heavily used since 2010. Though circular economy is a newer concept, the knowledge about this field has been widely developed by the public and private sectors with the belief that circular economy – driving the economy through manufacturing, usage, and reuse – is a sustainable option for businesses in this modern age when resources are highly limited.
In Vietnam, the development of knowledge and practice of circular economy is a new topic, however, it has been highly efficient, leading it to take part in the national policy.
"In the past, everyone would understand the 3Rs, or just recycling is good enough. Today, we must go beyond recycling, and bring resources back to reuse again. In Vietnam, we have been trying to issue laws and regulations in this area while emphasizing the importance of circular economy to all stakeholders," said Mr. Pham Hoang Hai – Partnership Development Head, Vietnam Business Council for Sustainable Development (VBCSD), Vietnam Chamber of Commerce and Industry (VCCI).
Other sectors have said that the real challenge is in trying to engage stakeholders to join them on the circular way and to find mutual benefits. "First of all, we must set a mutual goal, and determine the strength of each stakeholder and what they are capable of, in order to develop circular economy that will benefit every party. As a representative of Vietnam, I am pleased to see an ASEAN-level working group that has formed a business council to drive the adoption of circular economy in a wider circle."
Meanwhile, Dr. Safri Burhanuddin – Deputy IV of Coordinating, Ministry for Maritime Affairs of Republic Indonesia revealed that the Indonesian government has been proactively driving circular economy through its national policy. Moreover, the private sector and government agencies are embracing circular economy and putting the concept to use urgently while seeking projects that they can work on together.
"Since it was announced that Indonesia is a major waste producer in the world, us Indonesians have been concerned and we are trying to alleviate the problem of ocean waste. Currently, 18 ministries in the Indonesian government are working together. From our study, we have found that over 80 percent of ocean waste originated on land, thus, we are starting from our cities and cleaning up the rivers in Jakarta," he said, emphasizing that these project would not have been successful without the cooperation among the public and private sectors as well as non-profit organizations. Moreover, the private sector has been initiating projects using the circular way, such as paving roads with plastic, while the Indonesia government has set a goal to recycle single-use plastics.
"We found that most landfills are full of plastic bags, thus, last September we established a joint committee to tackle the waste problem with the objective to decrease the amount of plastic by 2025 and to work with the governments and private sectors of foreign countries, as this is a regional problem that needs to be solved together," said Dr.Safri.
Setting a common goal is the first step towards driving circular economy into becoming a reality. Thus, it is a joy to see organizations around the world stepping forward with the hopes that the earth's resources will be used to its full potential by effectively reusing our resources to help save the earth for later generations.
Those interested may seek more information about SD Symposium at http://bit.ly/31X1QGd or follow us at https://scgnewschannel.com / Facebook: scgnewschannel / Twitter: @scgnewschannel or Line@: @scgnewschannel
(Visited 262 times, 1 visits today)