SCG led by The Concrete Products and Aggregate Co., Ltd. or CPAC under Cement and Construction Solution Business, and SHO-BOND & MIT Infrastructure Maintenance Corporation (SB&M), have agreed to establish a joint venture to provide Lifetime Solution for facilitating comprehensive building and infrastructure maintenance and repair services. The joint venture will harness technology to boost efficiency and add value to the business with an innovative approach on top of increasing competitiveness and expanding the services to the ASEAN market.
Mr. Chana Poomee, Vice President – Cement and Construction Solution Business of SCG, disclosed, "The investment made into the joint venture is 150 million Baht. The shareholding ratio of CPAC and SB&M will be 51:49, respectively. The joint venture is established to support future growth in infrastructure maintenance and repair demand in Thailand and ASEAN. Combining the strengths of the two firms: SB&M has expertise in technology, development, manufacture, and distribution of construction materials for building and infrastructure repair from Japan, while CPAC is a leader in Thailand's construction industry which has recently transformed from a producer of ready-mixed concrete to Total Solution Provider. The joint venture offers Lifetime Solution that provides services and solutions of Repair & Maintenance, Renovation, and Corrosion Protection to extend the service life of the building or infrastructure. Besides, this partnership will raise the construction standard of infrastructure maintenance and repair services of Thailand to the international level and maximize the potential to expand business opportunities to the ASEAN market in the future.
Lifetime Solution offers maintenance and repair services as follows:
Repair & Maintenance Solution is the infrastructure maintenance service for damage caused by the usage or material degradation. The service can facilitate service life extension of the building, the right solution, and high-quality repair material selection by specialized professionals.
Renovationis a service for remediation, modification, and enhancement of the existing building or infrastructure offered to add diverse functionalities or modify construction's objective.
Corrosion Protectionis a service that offers rust protection for steel structure and reinforced concrete to help extend the service life of the infrastructure. The service is suitable for new construction projects and repair of damaged facilities, particularly the construction with great risk of corrosion such as bridges, ports, or facilities near the ocean or in high humidity areas with tidal movement. The corrosion will cause the facility to have poorer ability to withstand high impacts on top of potential wide-scale damage, which makes the immediate repair complicated.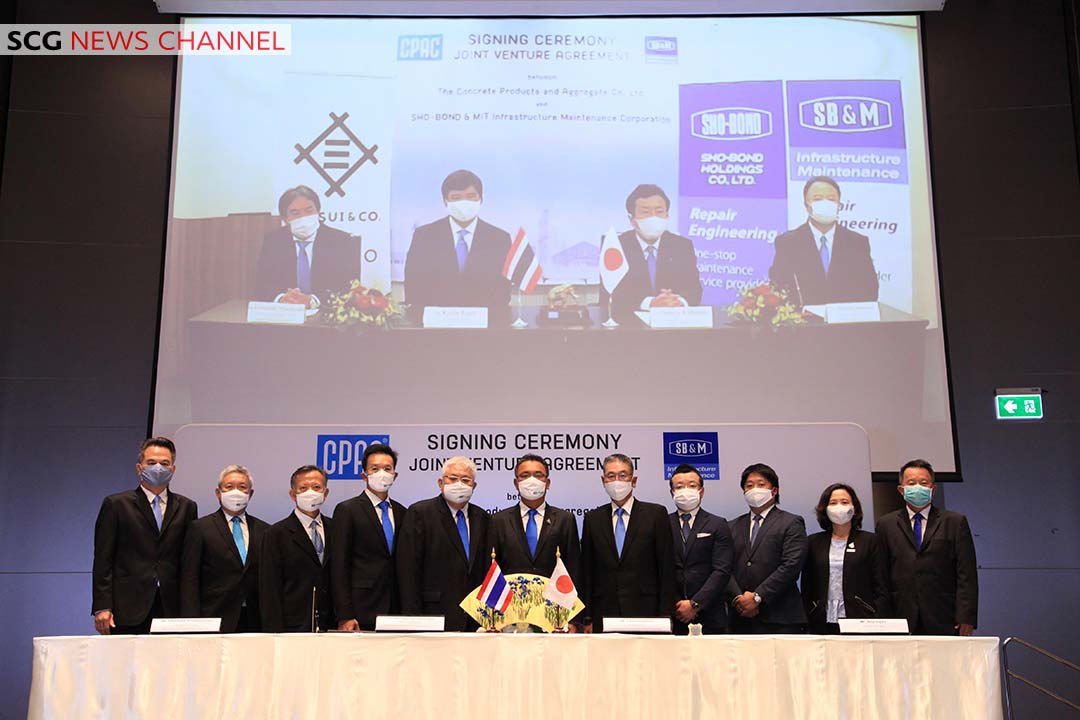 SB&M is a joint venture between SHO-BOND Holdings Co., Ltd. and Mitsui & Co., Ltd., with a 51:49 ratio, registered in Japan in 2019. The company provides services and solutions of maintenance and repair technology for maintenance & repair, including the development, manufacture, and distribution of construction materials for large-scale infrastructure. The company is committed to bringiwwng its ability to strengthen comprehensive service provision for customers and business partners in Thailand toward a shared success.
For more information, please contact CPAC Construction Solution at 02-555-5678 or visit the website: https://web.cpac.co.th.
(Visited 569 times, 1 visits today)