The Prime Minister lauded the proposal resulting from collaborative brainstorming sessions among the public, private, and civil society sectors to accelerate Thailand's transition to a low-carbon society. He invited all stakeholders to join in establishing the Saraburi Sandbox, poised to be Thailand's first low-carbon model city. He further underscored the importance of expanding the circular economy, transitioning to renewable energy, and ensuring that no one is left behind, all of which are crucial to fostering economic growth and attracting investors. He expressed his belief in the power of collaboration to steer Thailand towards a low-carbon future at the ESG Symposium 2023.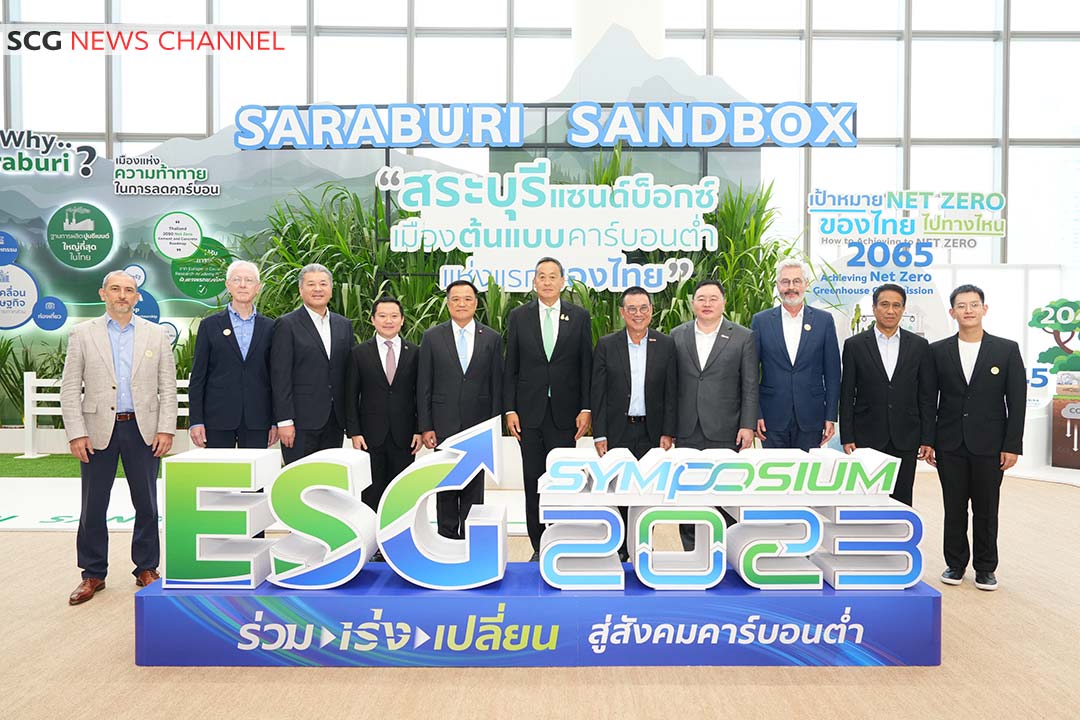 This afternoon (5 October 2023), Prime Minister Srettha Thavisin attended the ESG Symposium 2023. Now in its 11th year, the event was themed "Accelerating Changes Towards Low Carbon Society." The symposium was organized in collaboration with Joint Foreign Chamber of Commerce in Thailand, the Thai Chamber of Commerce and the Board of Trade of Thailand, the Federation of Thai Industries, and SCG. Hosted at the Queen Sirikit National Convention Center, the event saw the participation of over 2,000 representatives from various sectors. The Prime Minister listened to the proposal titled "Accelerating Thailand Towards a Low Carbon Society," an outcome of brainstorming sessions in September involving more than 500 participants from the public, private, and civil society sectors. The proposal outlines four main pathways, namely:
Collaborating to establish the "Saraburi Sandbox": Developing Thailand's first low-carbon model city, propelled by green industries, sustainable agriculture, and eco-tourism. Saraburi Province grapples with complexities and challenges due to its role as an economic hub, encompassing heavy industries, agriculture, tourism, and a metropolitan mix. These attributes accurately represent Thailand, providing a vital case study to comprehend the success factors and challenges of transitioning to a low-carbon society. This integration process involves industry experts, relevant officials, and the affected civil society. If successful, this initiative will inspire other provinces to follow suit. Collaborative efforts are already underway; for example, there is a mandate set for using low-carbon cement in all Saraburi Province construction projects starting from 2024. Other initiatives include practicing alternate wetting and drying in paddy fields to minimize water usage, planting energy crops like Napier grass, converting agricultural waste into alternative energy sources, generating community income, and jointly planting in 38 community forests across the province to absorb greenhouse gases, which also paves the way for eco-tourism, creating additional revenue streams for the communities.
Making the circular economy a national agenda: Recognizing it as a pathway to achieving low-carbon economic growth. In Thailand, three sectors—the packaging, automotive, and construction industries—have already embarked on this journey. Key elements crucial for making a circular economy a reality include the establishment of clear policies, laws, and standards; unified waste separation and collection systems nationwide; well-defined metrics for tracking progress; and the nurturing of an ecosystem that amplifies investment benefits and the technology advancements relevant to the circular economy. Additional efforts encompass promoting green products made from recycled or bio-compostable materials, setting clear legal mandates on quantities, and green procurement led by government agencies to foster widespread acceptance.
Transitioning to renewable and sustainable energy: Unlocking limitation by liberalizing renewable electricity trade through smart grid modernization. This will enable the public and private sectors to share the electricity grid for easier access and convenience. Additional efforts include support for the development of battery storage technology for renewable energy; the optimal use of vacant spaces to store energy in diverse forms, such as hydro energy, thermal energy, mechanical energy, and chemical energy; development of newer alternative energy sources and including them in the national energy plan, such as hydrogen energy, bioenergy, community waste, and industrial waste. This is complemented by revising policies, introducing incentives to foster renewable energy consumption, and leveraging Big Data to increase transportation efficiency.
Ensuring no one is left behind: Prioritizing inclusivity is essential, particularly vulnerable groups who have not been able to adapt, such as SMEs, laborers, farmers, and local communities. By identifying affected groups and providing appropriate support, they can become aware, access to carbon-reducing technologies and global green funds, which amount to as much as 52 trillion baht. Thailand should proactively pursue these funds to truly foster a low-carbon society. Potential projects include an innovation fund for farmers to cope with fluctuating weather conditions and a fund for forest restoration while generating income from carbon credits. Additionally, it's crucial to develop the skills of workers affected by the transition, ensuring they can adapt swiftly and become self-reliant.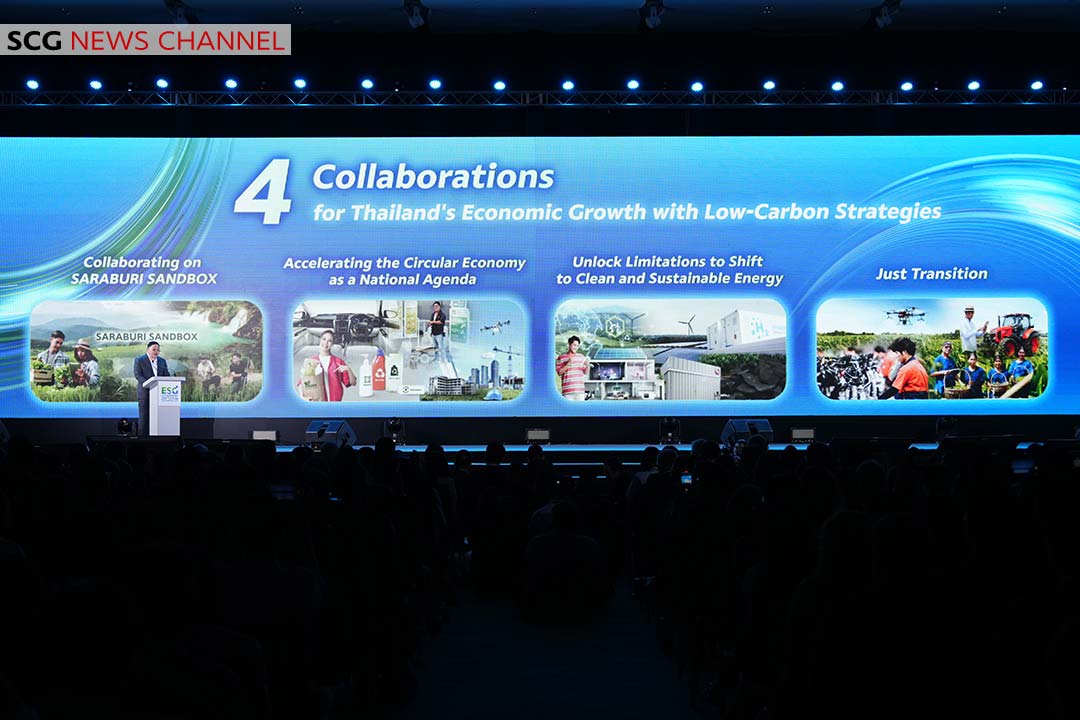 Prime Minister Srettha Thavisin praised the proposal and expressed confidence that if all sectors collaborate following the ESG (Environmental, Social, and Governance) strategy—which emphasizes fostering an economy alongside social and transparent environmental balance—it will help recover our planet. To further sustainable development in Thailand, a clear transition with people at its core is essential. The outlined directions are: 1) Prioritizing sustainable development without leaving anyone behind, focusing primarily on the most vulnerable groups; 2) Promoting human rights and gender equality for everyone in the country, with an emphasis on health rights; 3) Encouraging multi-level collaboration to cope with climate change and ensuring access to affordable, and reliable energy services by 2030.
"I am deeply impressed to see every sector of Thai society—including businesses, the government, academia, and the public—uniting to strategize Thailand's transition towards a low-carbon society. The global boiling crisis impacts the existence of every life form on Earth.
I applaud the initiative to establish the "Saraburi Sandbox" as Thailand's first low-carbon model city. Given that Saraburi is a province with significant challenges and home to several major industries, success will require cross-sector collaboration involving strategic measures and capital. I would like to invite other stakeholders to join this effort. If successful, it could serve as an exemplary model for other cities and industries.
For accelerating the circular economy as a national agenda, I commend the commitment of the three pioneering industries: packaging, automotive, and construction. The government intends to build on this success by prioritizing waste management policies and endorsing green procurement. Such efforts will nurture an ecosystem conducive to the circular economy. As for the promotion of renewable energy, the government is committed to maximizing the utilization of renewable energy sources and exploring opportunities to enhance the trading of electricity generated from renewable energy sources. The goal is to ensure energy stability and foster the growth of the Thai economy. This strategic direction will attract future foreign investors and corporations."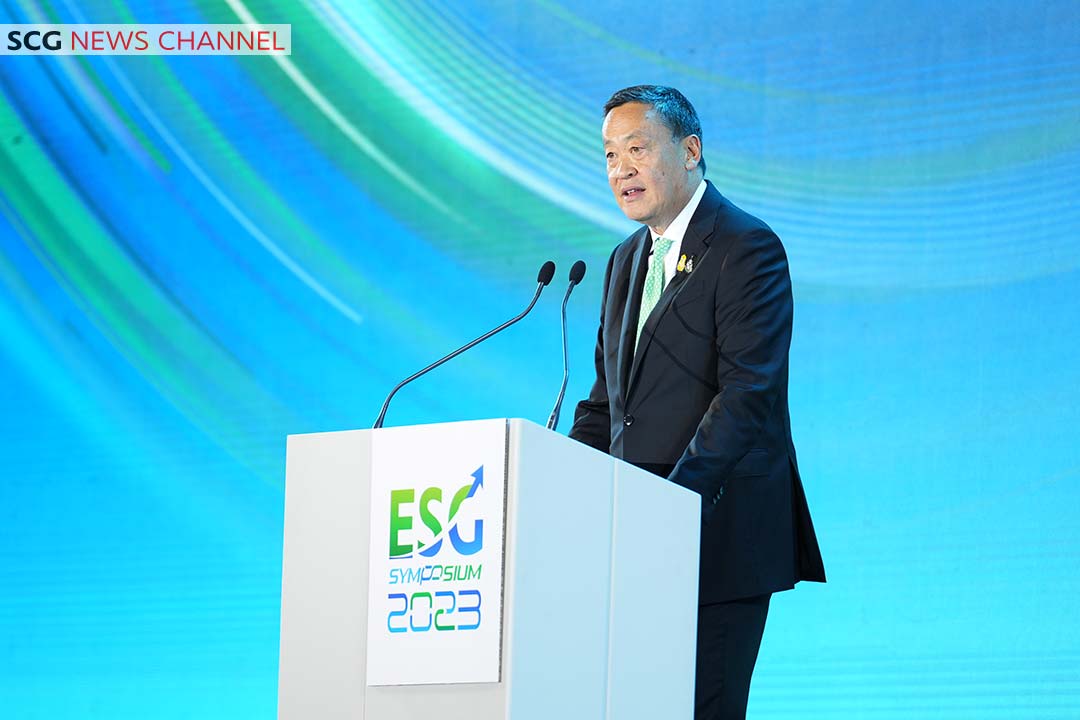 The Prime Minister concluded, "I would like to express my gratitude to everyone working towards transitioning to a low-carbon society without leaving anyone behind. Many people, notably small businesses, farmers, and communities, remain unaware of this crisis or have yet to find solutions. We should facilitate access to knowledge, technology, and capital so that everyone can adapt and survive. As for today's proposal, I will assign the relevant agencies to take further action."
Roongrote Rangsiyopash, President & CEO of SCG, said, "We thank the Prime Minister for gracing our event and hearing our proposal today. I am confident that under your administration, which is committed to sustainable development without leaving anyone behind, coupled with the country's clear policies, every sector will work together robustly to drive the country forward in a stable and sustainable manner."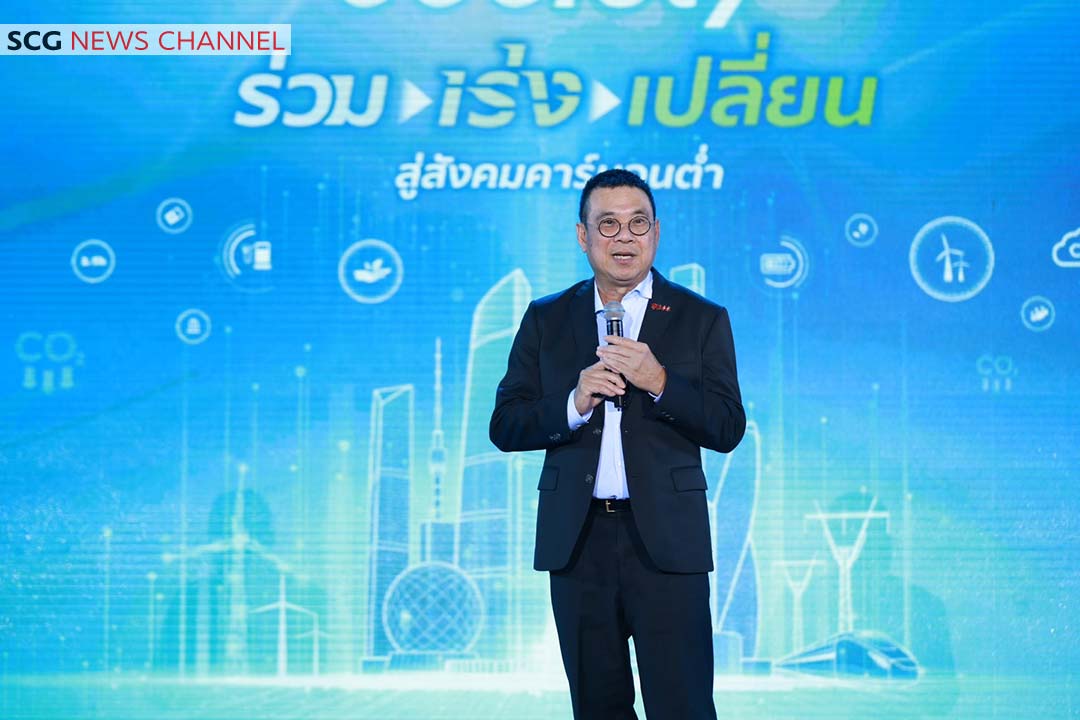 Thammasak Sethaudom, Executive Vice President of SCG, remarked, "SCG is ready to continuously push forward the directions set by the Prime Minister. We are speeding up the development of green production processes alongside green innovations, such as low-carbon cement, green polymer, and bio-compostable packaging. Furthermore, we are collaborating with all sectors to tackle global boiling. This evening, 80 CEOs from various industries, including energy, manufacturing, real estate, automotive, healthcare, and services, will brainstorm further. We are confident that we can support the growth of the Thai economy to be truly low-carbon."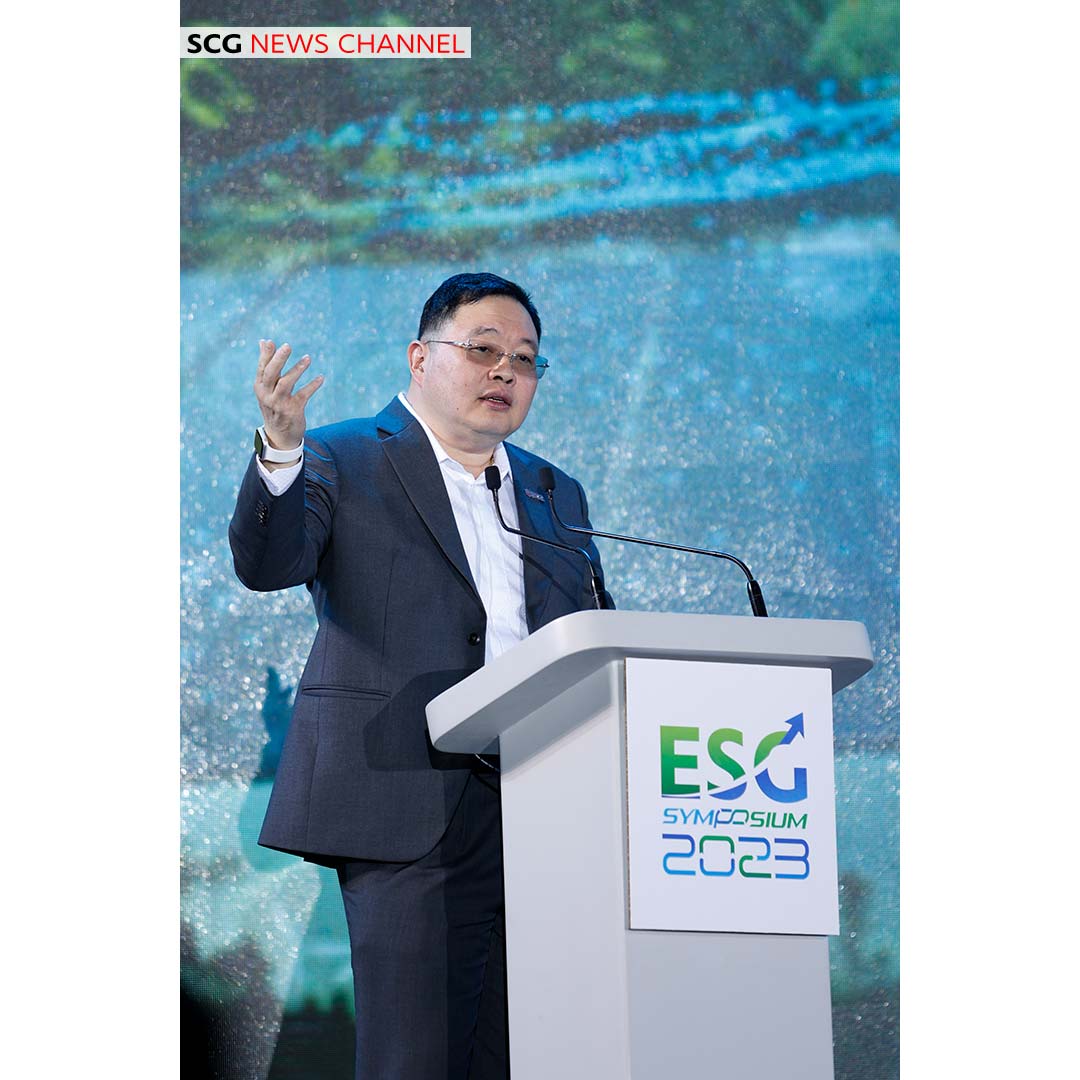 Published on: Oct 5, 2023
(Visited 193 times, 4 visits today)
ดาวน์โหลดข่าว