SCGP reported total sales revenue for the first nine months of 2023 at Baht 97,517 million and a profit of Baht 4,030 million. The company has been strengthening production efficiency and pursuing cost improvement with Artificial Intelligence (AI) technology. Packaging sales to the food and beverage industry were boosted by rising consumption with trend for overall packaging demand to rebound further in the last quarter. SCGP is also advancing its ESG initiatives, aiming to increase alternative energy sources with projection of a 15% reduction in greenhouse gas emissions by year-end, progressing faster than planned.
Wichan Jitpukdee, Chief Executive Officer of SCG Packaging Public Company Limited or SCGP, disclosed the operating results for the first nine months of 2023. The company's sales amounted to Baht 97,517 million, a decrease of 13% compared to the same period of last year. EBITDA was Baht 13,381 million, down by 16% from the same period of last year. Profit for the period stood at Baht 4,030 million, decreased 25% from the same period of last year. Primary factors for this decline were from the decrease in sales volume and price of packaging paper and pulp.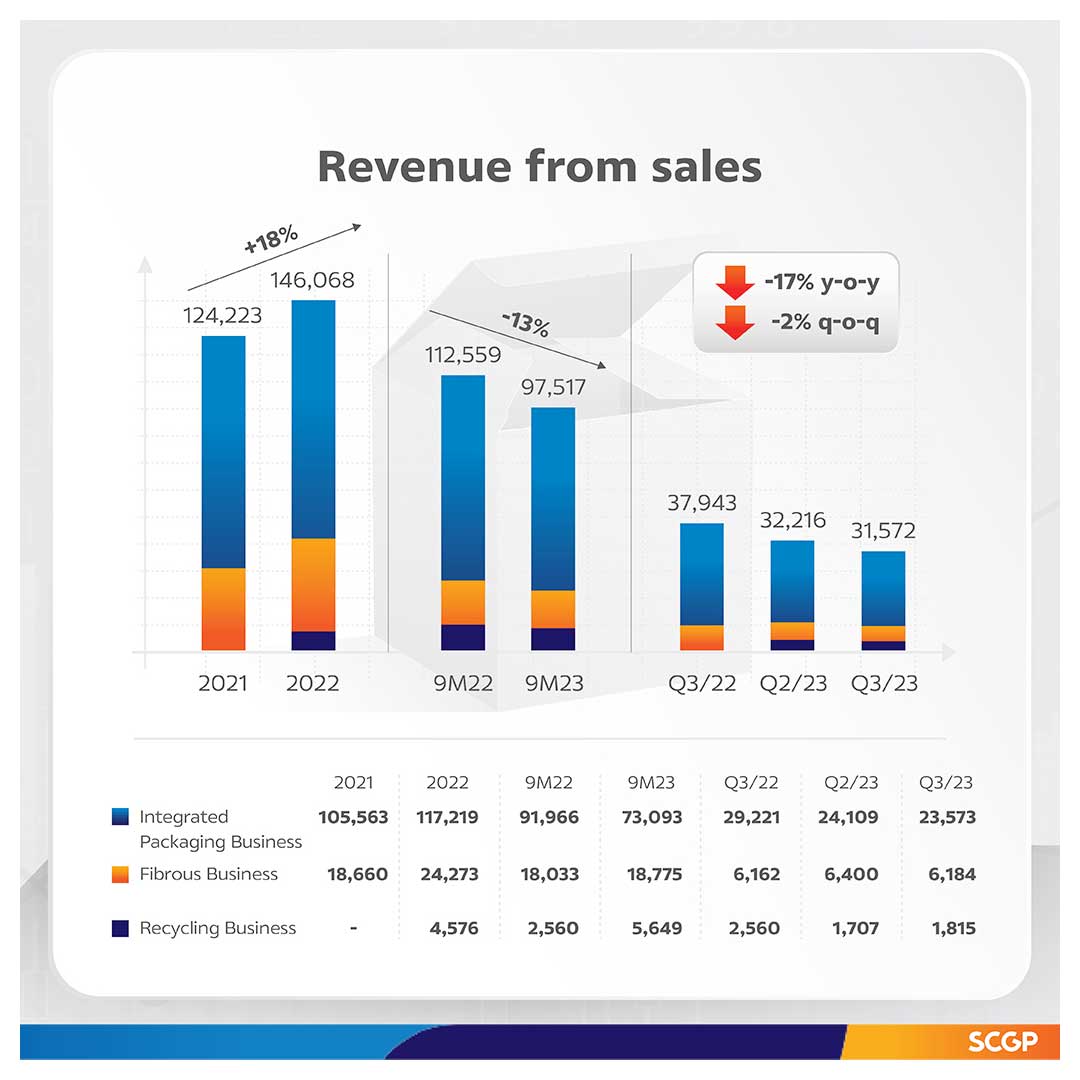 For the third quarter of 2023, SCGP reported a sales revenue of Baht 31,572 million, representing a decrease of 17% Y-o-Y and 2% Q-o-Q. EBITDA was Baht 4,229 million, a decrease of 23% Y-o-Y and 10% Q-o-Q, while profit for the period was Baht 1,325 million, down by 28% Y-o-Y and 11% Q-o-Q. Drop in profitability was attributed to a decrease in packaging paper prices in Indonesia, lower export volumes to China, and reduction in volume and price of pulp sales.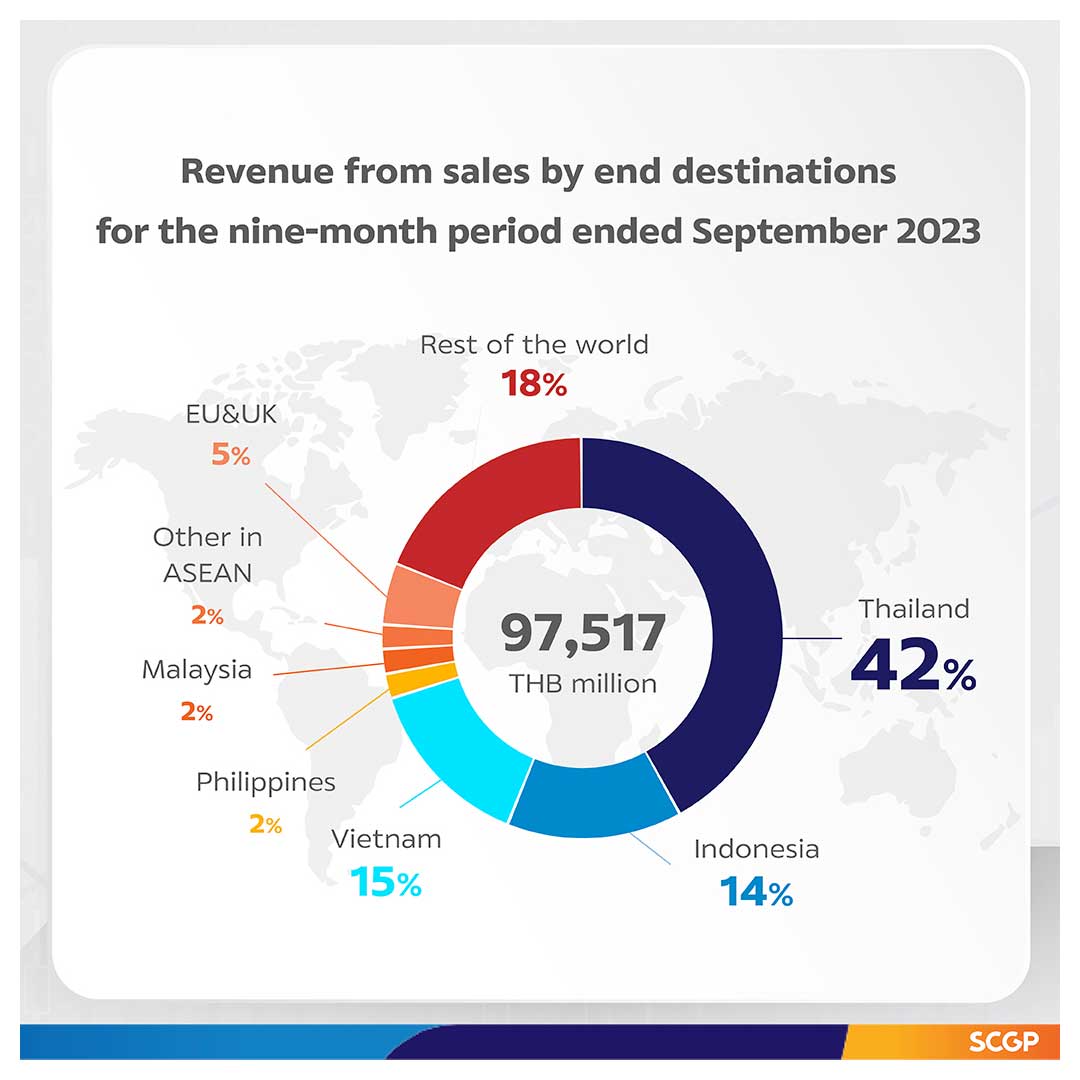 SCGP has strategically realigned its business operations to resonate with current market conditions, placing a primary emphasis on increasing sales of packaging for the food and consumer goods sectors. These sectors have witnessed solid growth in ASEAN, spurred by domestic consumption in the segment of frozen food, processed foods, fruits, and daily consumer products. The growing demand within Thailand and Vietnam, along with the recovering exports in these product categories, have been evident. In addition, the company continues to invest to enhance the capability of its employees, improve operational systems, and integrate Artificial Intelligence (AI) to boost the efficiency of its packaging production processes. This AI-supported improvement has enabled the company's plants in Thailand to reduce energy costs by up to Baht 130 million/Year and greenhouse gas reduction of 30,000 tons CO2/Year in 2023.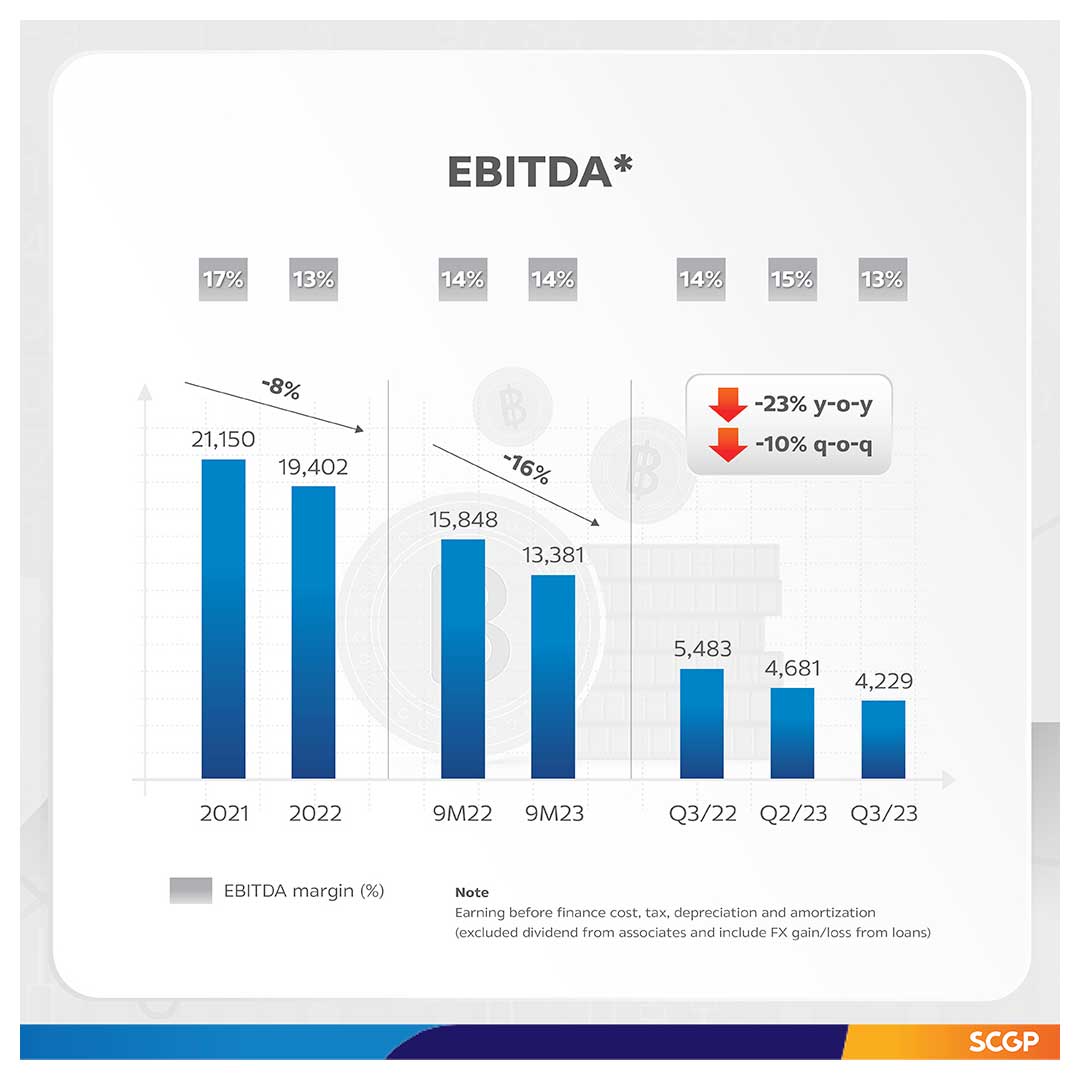 Wichan stated that the packaging industry's trend for the last quarter of the year is expected to recover from the previous quarter, especially food and beverage packaging. Demand for packaging paper in the region is showing signs of sequential recovery. Furthermore, China's economic stimulus measures have started to yield positive effects in the manufacturing sector while there is upward adjustment in packaging paper prices, which is favorable for ASEAN's exports. Business operations in Indonesia had already passed their lowest point and are anticipated to gain momentum leading up to the elections in early 2024, which will stimulate consumer spending and increase the demand for packaging across industries.
SCGP is moving forward with its expansion and M&P strategy in high potential buisnesses to continue the quality growth. Regarding the progress of capacity expansion projects, the new flexible packaging production facility in Thailand has commenced its commercial operations in the third quarter of this year. Additionally, the project to expand fiber packaging capacity in Thailand is expected to start its commercial operations in the first quarter of 2024. As for packaging materials recycling business, preparations are underway for the commercialization of new plant in the Netherlands in November 2023. This would lead to a doubling in sourcing capability of recycled paper and plastics for Peute.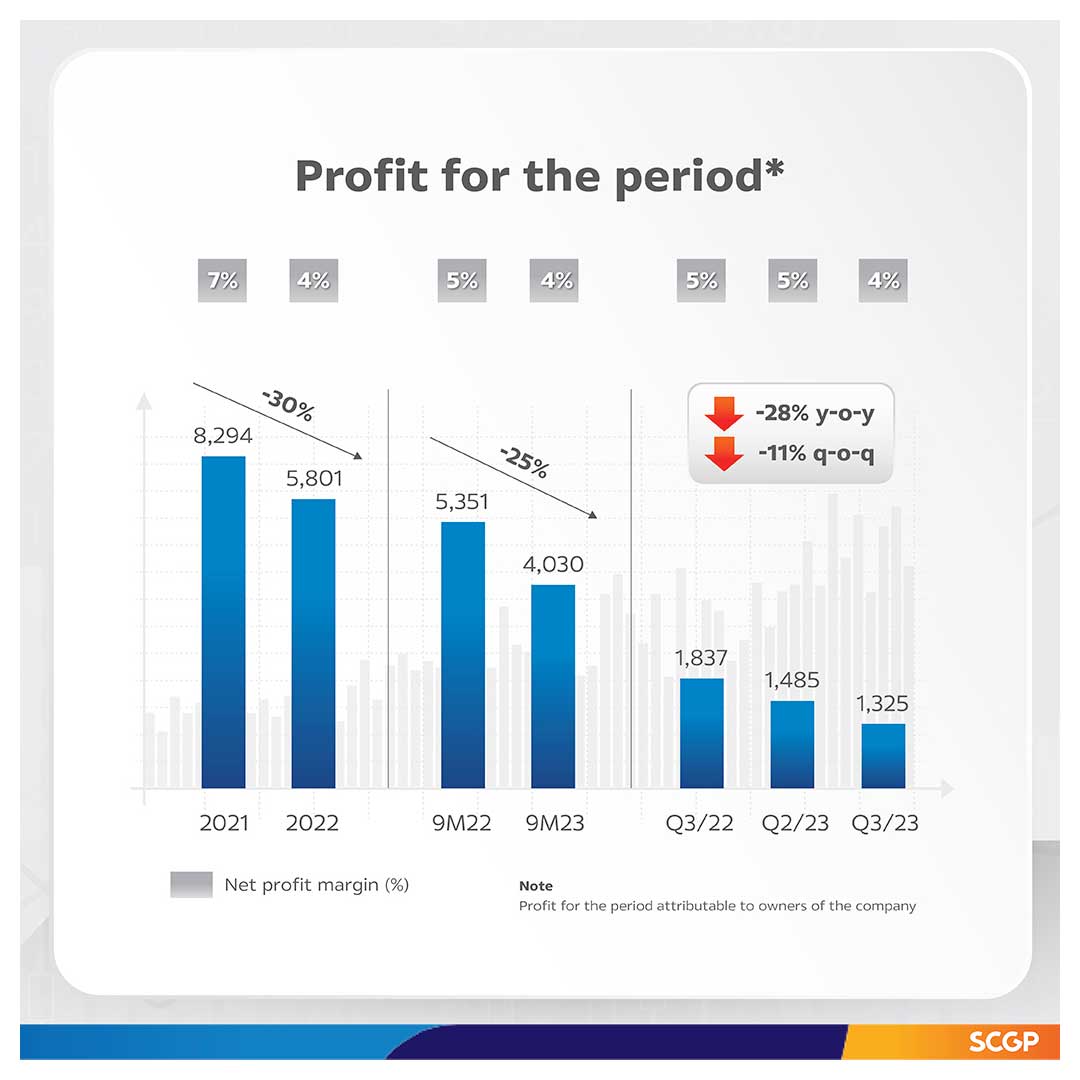 Notable progress includes an investment in Starprint Vietnam JSC (SPV) in Vietnam, where the deal is expected to be completed in the fourth quarter of this year. Furthermore, the company is advancing the preparation for the M&P investment in polymer packaging to strengthen its sales channels and networks with aim to support global market expansion. Another potential investment under focus is in medical supplies and labware with goal to boost growth, expand the customer base, and reinforce the Value Chain. Conclusions on this front are expected to be reached soon.
At the same time, SCGP is committed to conducting its business in line with the ESG framework, particularly by increasing the use of alternative energy sources. SCGP estimates that, by the end of 2023, the company would achieve a 15% reduction in greenhouse gas emissions compared to the base year in 2020, surpassing the Science Based Target Initiative (SBTi) of 7.5%. Additionally, SCGP has secured green loan amounting to Baht 3,000 million with 5-year term from Bank of Ayudhya Public Company Limited to support projects that promote efficient energy usage. This initiative is a crucial step for SCGP to achieve its ultimate goal of Net Zero greenhouse gas emissions by 2050.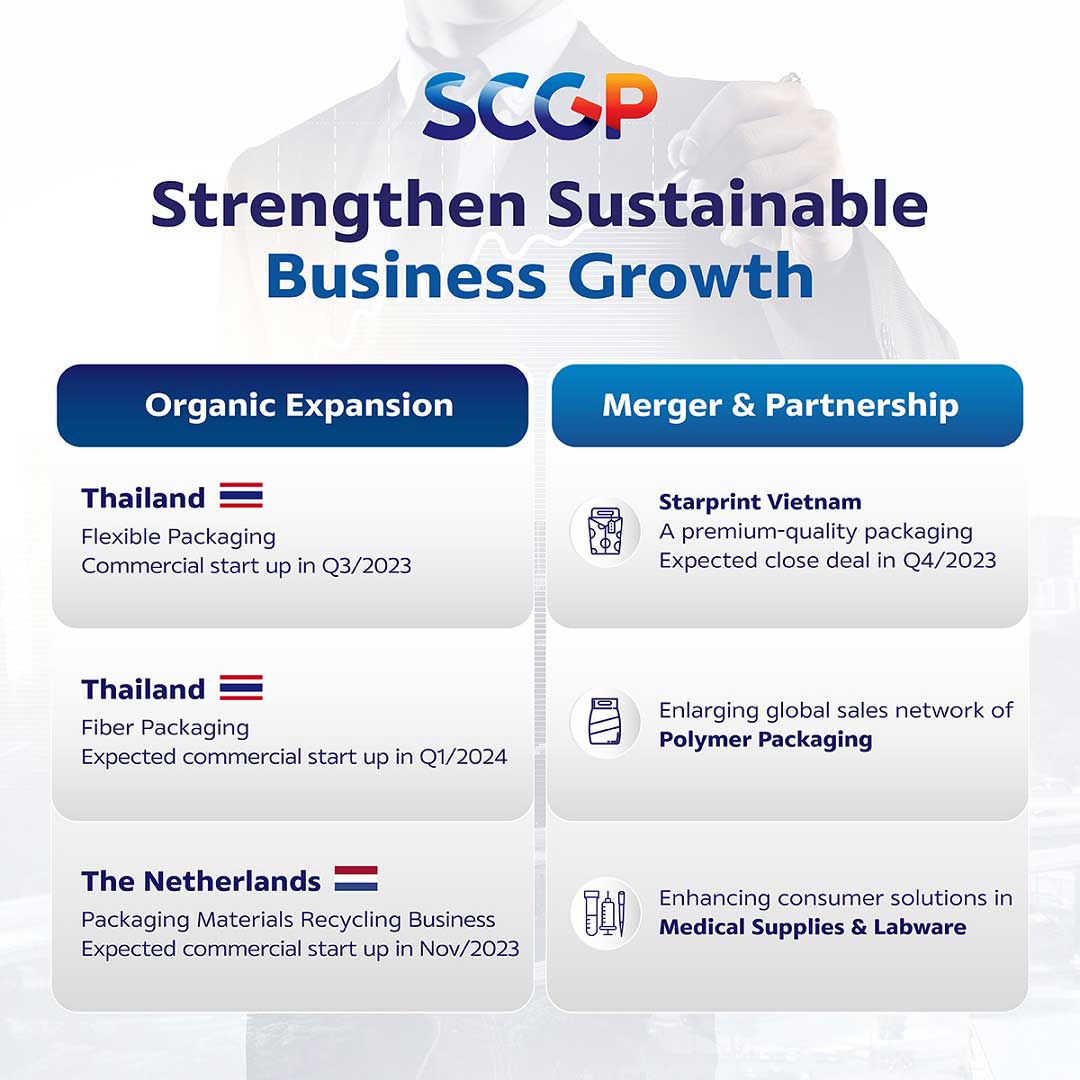 Published on: Oct 24, 2023
(Visited 57 times, 1 visits today)