Bangkok – 31 October 2023: SCG Chemicals, or SCGC, a leading integrated chemical player in ASEAN focused on business growth and sustainability, has partnered with Global House, a leading one-stop shop for construction materials and home decor. The companies have signed a Memorandum of Understanding (MoU) for a project titled "Closed Loop Collaboration for Circularity." This initiative aims to transform used plastics from Global House retail stores and distribution centers into environmentally friendly plastic bags using SCGC's High Quality PCR from SCGC GREEN POLYMERTM. This effort ensures that plastics are fully recycled, preventing leakage into the environment and emphasizing optimal resource utilization following the principles of the Circular Economy. Starting this October, the environmentally friendly plastic bag will be piloted at the Global House major store in Roi Et Province.
Tanawong Areeratchakul, CEO and President of SCG Chemicals Public Company Limited (SCGC), commented, "SCGC actively promotes and drives the principles of the Circular Economy in collaboration with all sectors. Our focus is on reintroducing used plastics into the closed-loop recycling system, which is the essence of the Circular Economy. Through our collaboration with Global House, SCGC has introduced a recycling innovation—SCGC GREEN POLYMERTM—that transforms Global House's used plastics into High Quality Post-Consumer Recycled Resin (High Quality PCR). This is then used to manufacture 'Environmentally Friendly Plastic Bags.' This initiative not only maximizes resource utilization but also helps reduce waste and lowers greenhouse gas emissions, aligning with the 'Low Waste, Low Carbon' approach for a sustainable environment."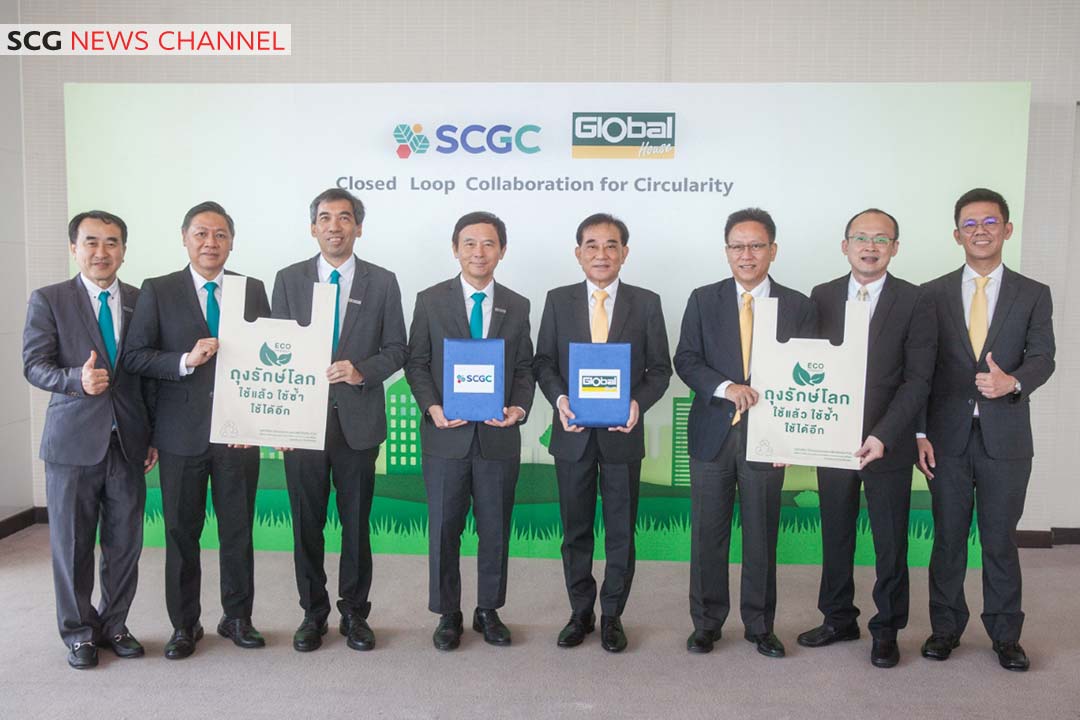 Witoon Suriyawanakul, CEO of Siam Global House Public Company Limited, commented, "It is a significant milestone for Global House to partner with SCGC, the expert in green polymer innovations, in driving our environmental policies. We conduct our business aligned with ESG (Environmental, Social, and Governance) principles and are committed to achieving net zero, aiming to neutralize our greenhouse gas emissions by 2050. This closed-loop recycling project involves taking leftover film and packaging plastics from Global House's distribution centers and stores, recycling them, and manufacturing them into 'Environmentally Friendly Plastic Bags.' This move aligns with the Circular Economy principles, helping reduce environmental issues while improving people's quality of life and fostering tangible positive change for Thailand. We will initially introduce these environmentally-friendly bags at the Global House major store in Roi Et Province, with plans to expand this initiative in the future."
Furthermore, this collaboration signifies a pioneering move towards closed-loop recycling. Narai Pak Company Limited, one of Thailand's major plastic bag manufacturers, will mold and produce these environmentally friendly plastic bags.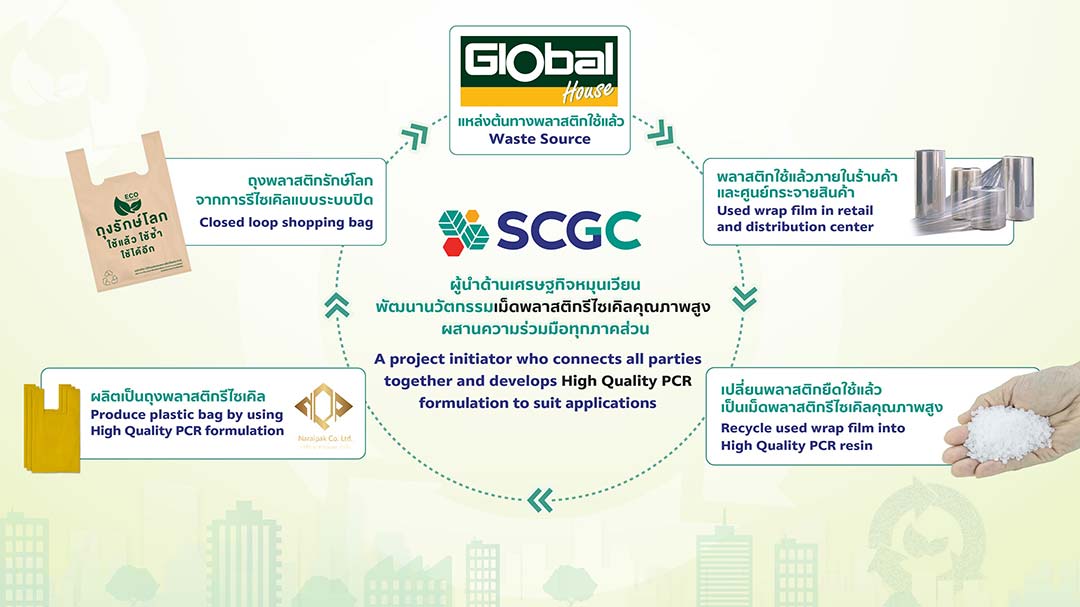 About SCGC
SCG Chemicals or SCGC is a leading integrated chemical player in ASEAN with strategic bases in Vietnam, Indonesia, and Thailand, offering a full range of petrochemical products ranging from upstream production of olefins to downstream production of 3 main plastics resins: polyethylene, polypropylene, and polyvinyl chloride.
SCGC focuses on inventing "Innovation That's Real" to drive the ASEAN economy and elevate the quality of life in accordance with ESG and circular economy. SCGC develops technology and innovation toward HVAs in infrastructure, consumable packaging, automotive, health and well-being, and energy solutions, while ensuring sustainable environmental stewardship.
More information: https://www.scgchemicals.com
About Global House
Global House is Thailand's largest one-stop shop for construction materials and home decor. Born from a passion and determination to infuse innovation into the Thai construction materials market, the company boasts over 20 years of experience in the industry.
Global House is committed to meticulously selecting products and providing services tailored to each region's customers' needs. Combined with the development of innovation and cutting-edge IT technologies in retail, the company aims to achieve the vision of being a hub for construction materials and home decoration that ensures the highest customer satisfaction. Beyond its focus on exemplary governance and operational excellence, the company is dedicated to enhancing its sales channels, cultivating customer relationships, collaborating with business partners, investing in human resources, and upholding its responsibilities towards society and the environment. These commitments underscore its vision of sustainable business growth.
More information: https://globalhouse.co.th/.
Published on: Nov 1, 2023
(Visited 73 times, 1 visits today)
ดาวน์โหลดข่าว