Mr. Roongrote Rangsiyopash, President and CEO, SCG and President of SCG Foundation has revealed that SCG is concerned about the current situation regarding the spread of the COVID-19 virus. Therefore, SCG would like to become a part of the "Care Together" movement to help Thailand pass through this crisis by donating innovative equipment to prevent against the spread of the COVID-19 virus to 7 hospitals. The donation was made with the aim to enhance protection and facilitate medical professionals, patients, and their close contacts. SCG Foundation has donated over 50 million baht's worth of medical equipment including:
Modular Screening & Swab Units: Because these pressure-controlled units can ensure appropriate air quality, they are able to lower the risk of infections for both medical professionals and patients undergoing screening. The units can be fully installed within only three days as they have been developed using innovation from SCG HEIM and SCG Living Solution. SCG has donated a total of 12 units worth 27 million baht.
Tele-Monitoring Equipment: The equipment utilizes the Internet of things (IoT) technology developed by SCG Living Solution in order to follow up on health data in real-time for patients who have contracted the virus as well as those in isolation. Thus, the equipment can decrease the frequency of contact between medical professionals and patients. SCG has donated a total of 70 units worth 2 million baht.
Modular Bathrooms: The structure of the bathrooms are made using ready-to-use lightweight concrete which are easy to disinfect for good hygiene. The bathroom provides separate areas for medical professionals and patients undergoing screening. SCG has donated a total of 28 bathroom units worth 1 million baht.
CT Scan: CT scan machines can rapidly detect and screen for patients at risk. SCG has donated 1 CT scan machine worth 15 million baht.
Medical Equipment to Prevent against the Spread of COVID-19 Virus including:

Negative Pressure Isolation Capsules to Mobilize Patients with the Virus in order to prevent against the spread of the virus during mobilization. SCG has donated 20 isolation capsule units worth 4 million baht.
Portable Negative Pressure Isolation Chambers in order to prevent against the spread of the virus during testing. SCG has donated 5 isolation chambers (3 rooms per unit) worth a total of 1 million baht.
Aerosol Boxes made from clear acrylic sheets to be used during the insertion of tracheal tubes. SCG has donated 200 aerosol boxes worth a total of 300,000 baht.
Meanwhile, SCG businesses are providing support and facilitation various sectors through many activities. For example, SCG Logistics is transporting essential medical equipment from the National Institute for Emergency Medicine to local administrations as well as various foundations; SCG is donating Fest packaging to government hospitals and hand sanitizers to the Bangkok Metropolitan Administration in order to be passed on to crowded communities and street sweepers; and SCG is also inviting volunteers to make face shields for medical professionals and to sew cloth face masks in order to decrease the use of medical face masks which are needed by medical professionals while donating cloth face masks to those in need.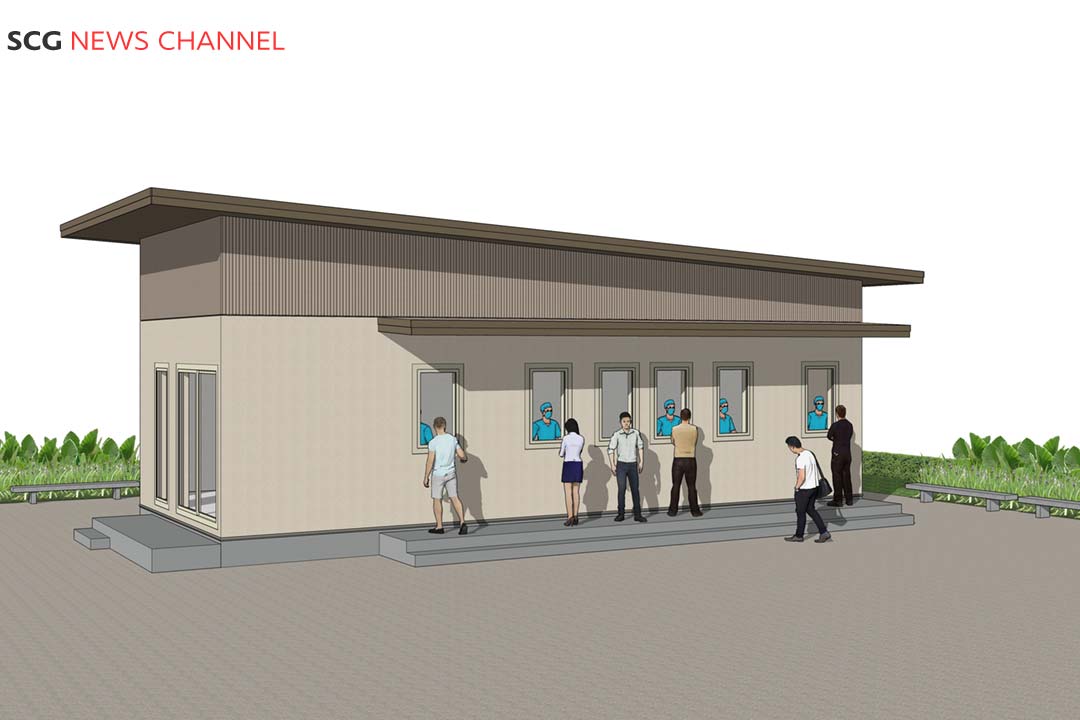 (Visited 703 times, 1 visits today)
ดาวน์โหลดข่าว