Success does not arise from just a single puzzle piece. Instead, it is shaped by tens or even hundreds of pieces coming together. Some parts may require patience and time. In essence, it might take thousands or tens of thousands of puzzle pieces to create a complete picture.
Recently, at the ASEAN Paper event, Surasak Amawat, Director of Technology and Digital Platform of SCG Packaging Public Company Limited or SCGP, shared insights into SCGP's operations, particularly in the area of recycling, aiming to add value throughout the supply chain.
Interestingly, technology and digital platforms not only provide a competitive edge in business but also serve as essential puzzle pieces underpinning the organization's objectives in ESG and Net Zero, contributing to sustainable business growth.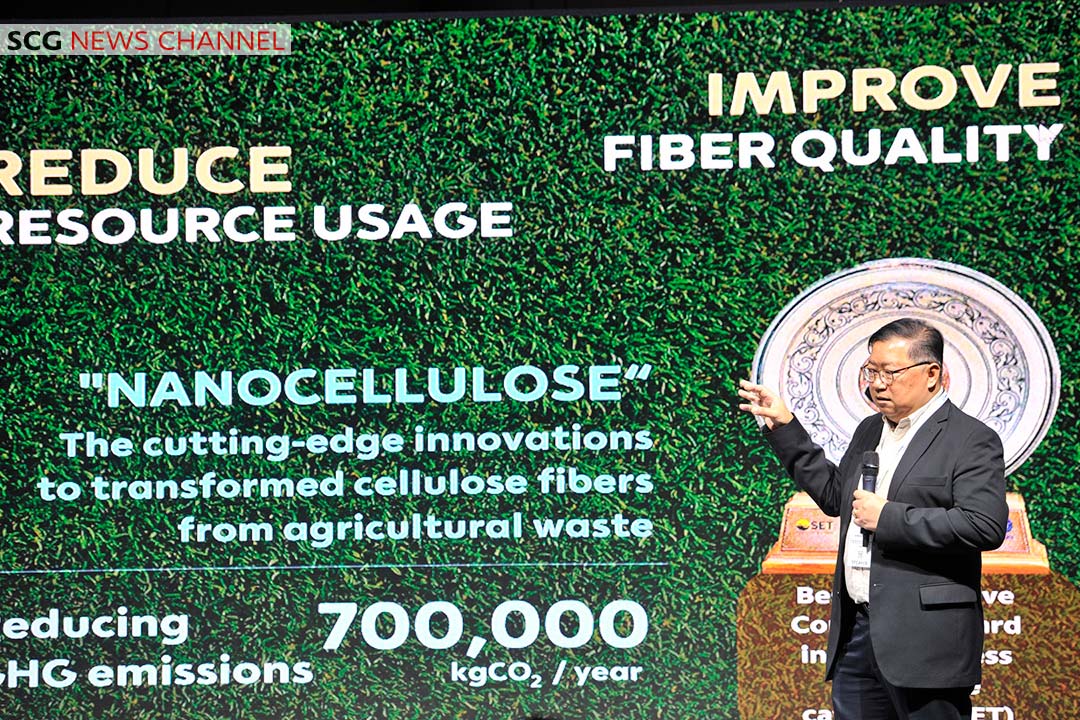 @Technology and Digital Platforms in Business Operations
Operating under the vision of being a leader in integrated packaging solutions in the region, SCGP offers a diverse range of innovative products and services coupled with a commitment to sustainable business practices. SCGP focuses on developing innovation and technology to bolster organizational sustainability across various aspects.
With an emphasis on operational excellence, SCGP ensures a more efficient supply chain by implementing various automation systems to boost productivity. SCGP has integrated diverse data types within the organization to help customers in multiple ways – from communication systems to ordering, product delivery, and order status tracking. With the integration of comprehensive organizational data, sales staff can quickly access product information relevant to the customer, enabling faster responses and significantly enhancing customer convenience. Additionally, the availability of ubiquitous online data streamlines internal processes, making the management of raw materials and inventory data more efficient. Such optimization ultimately reduces production costs, benefiting the entire supply chain.
"The principle is to have all the data as a 'single source of truth.' This means everyone in the supply chain sees the same data, eliminating complexities and gaps in managing the entire process. The advantages garnered from technology and digital platforms are just the beginning. Once adopted, they can be leveraged for even more benefits."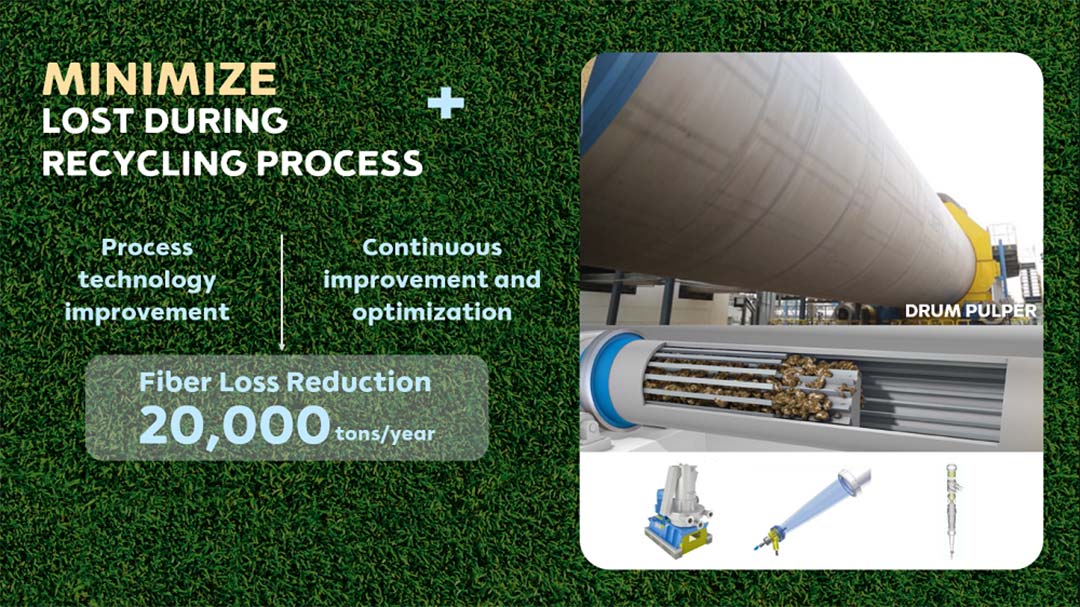 @Technology and Digital Platforms Lead to Sustainable Packaging
Driven by the SCGP's business strategy aligned with the ESG framework, there is a clear plan to increase the proportion of environmentally friendly packaging. By 2025, the goal is to achieve 100% recyclable and biodegradable packaging, and by 2050, the objective is to achieve net-zero greenhouse gas emissions. SCGP continuously develops technology and digital platforms to reach these sustainability targets.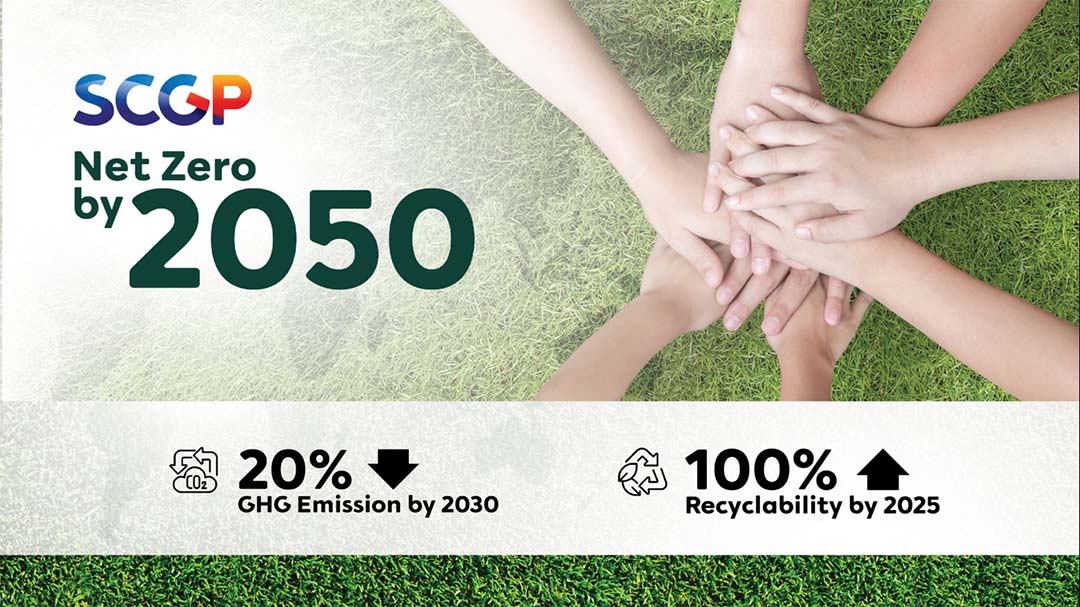 "Increasing the Rate of Recycled Packaging"
SCGP has actively built networks and fostered collaborations to maximize resource utilization. This includes increasing the number of recycling partners from 8 to 22 entities and expanding the network of recycling stations to return used packaging to the manufacturing plants. The count of these stations rose from 90 in 2020 to 133 in 2023.
SCGP has invested in enhancing the efficiency of recycled paper by integrating technology from abroad and improving operational excellence. Monitoring checkpoints are implemented at every process stage to ensure optimal performance, yielding satisfactory outcomes. The quality of the recycled paper has increased, from an initial rate of 80% to a range of 88-92%. This improvement represents a resource savings of 20,000 tons annually.
Furthermore, SCGP has researched and developed an innovation known as "nanocellulose fiber" derived from agricultural waste. This innovation serves as a raw material in the paper packaging production process. The innovation has been patented both domestically and abroad.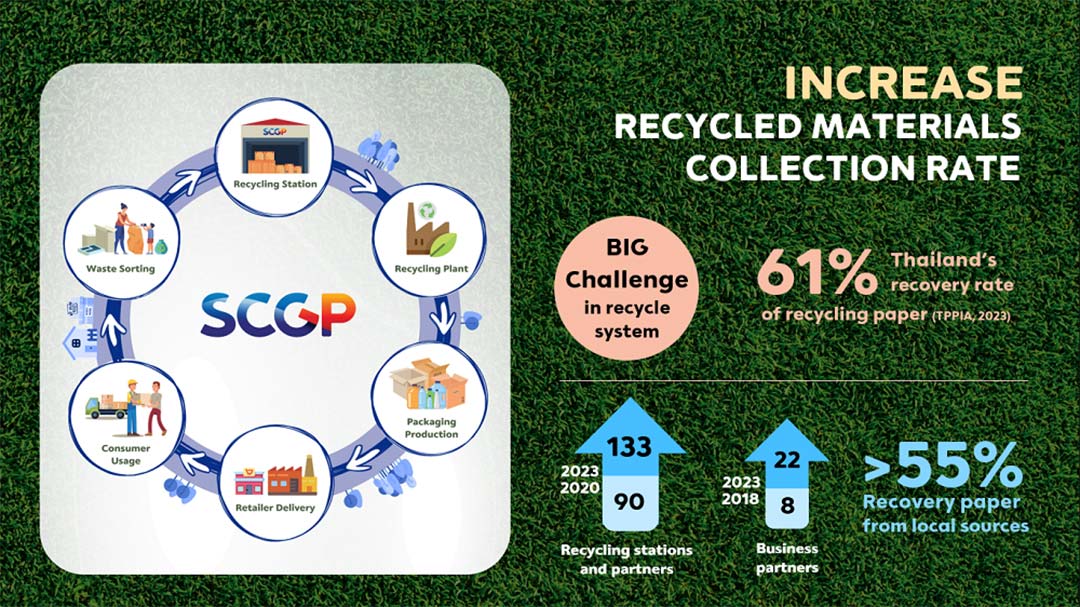 "Transforming Waste into Plastic Resins"
When thinking about the recycling of packaging, it is common to find other material residues mixed in, such as adhesive tapes or films, which cannot be reused and are typically incinerated for energy. SCGP has identified value in these leftovers, dubbing them the "waste of waste." By leveraging technology, SCGP transforms these byproducts into plastic resins. The company has expanded its "waste of waste" operations to three plants: one in Thailand and two in Indonesia.
"Once turned into plastic resins, they can be mixed with virgin plastic resins to produce consumer goods like plastic transport crates, various types of bins, and more. Consumers can then reuse these products. Although this initiative has yet to yield a return on investment, it significantly reduces environmental impacts, making it a truly valuable use of waste."
These advances represent a monumental shift in packaging production: minimizing the use of new resources, amplifying recycling efficiency, and promoting infinite recycling. This also includes the diverse benefits of upcycling, addressing the genuine pursuit of sustainability.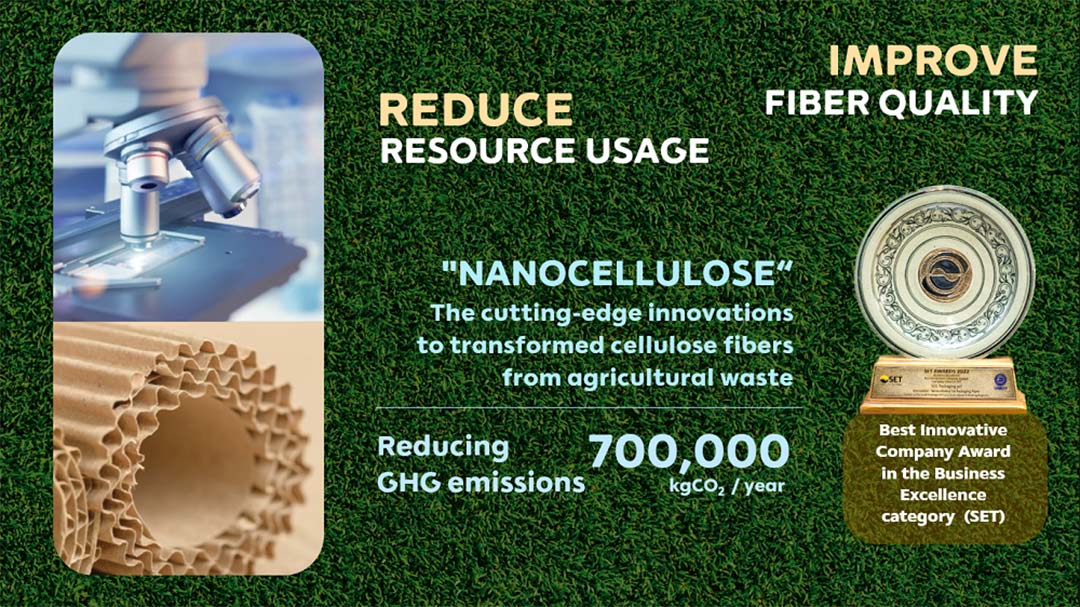 Published on: Sep 28, 2023
(Visited 81 times, 1 visits today)
ดาวน์โหลดข่าว