SCG Chemicals Company Limited, or SCGC, a regional leader in chemical innovations, consistently prioritizes innovation and development of integrated plastic solutions together with societal and environmental sustainability. In 2022 in particular, SCGC is determined to expand its business growth by developing High Value-Added products and services  (HVA) to satisfy the demands of global megatrends. In light of these megatrends, the following are SCGC's plastic innovations with high growth potential that will contribute to the expansion.
SCGC GREEN POLYMERTM: Plastic Innovative Solutions for The World and Us
SCGC has adopted the circular economy principles as a guideline for developing the SCGC GREEN POLYMER™   product series that promote environmental stewardship in 4 key areas: Reduce refers to reducing resource use; Recyclable refers to designing for recyclability; Recycle refers to enabling recycling; and Renewable refers to developing biodegradable plastic and using renewable energy.
Plastic is an essential material for the beverage packaging industry, particularly in the soft drinks market, where more than three trillion bottles are manufactured yearly. Given their widespread use, even a slight reduction in the amount of plastic used to produce bottle caps can help reduce the amount of greenhouse gases released into the atmosphere. SCGC has created two special grades of plastic resins: SCG™ HDPE SX002J and SCG™ HDPE SX002JA, both of which are manufactured with SMXTM technology that helps make resins that are stronger and mitigate global warming.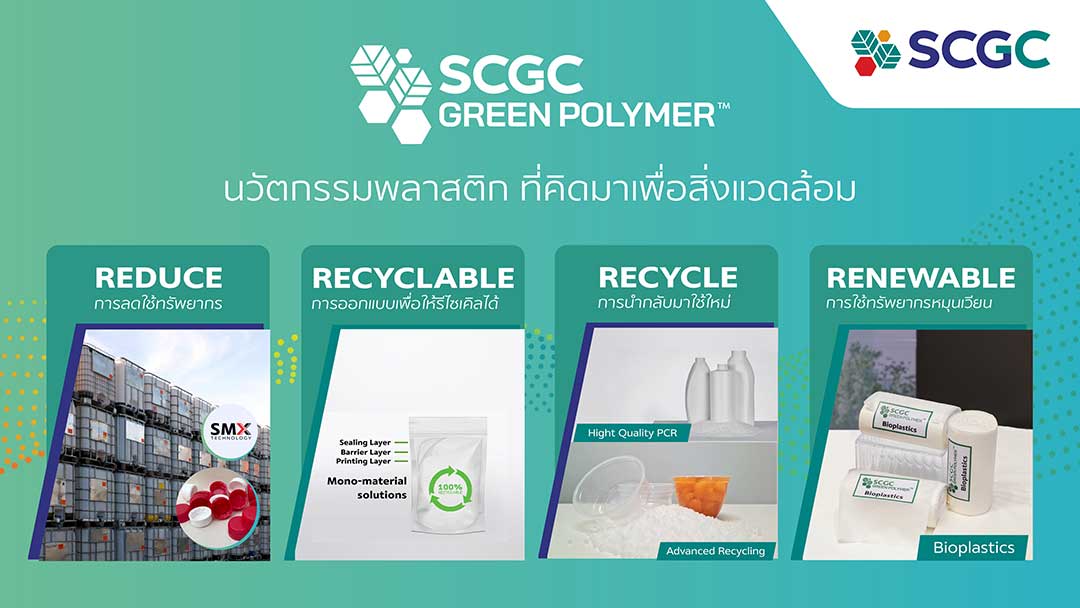 Both grades of plastic resin solutions meet the durability requirements, and even when the amount of plastic used is reduced, the bottle caps can still store gas so that carbonated beverages do not lose their fizz. The SX002JA resin has been qualified with Coca-Cola standard for its 2 grams lightweight cap. In addition, both SX002J and SX002JA are certified by SCG Green Choice, an eco-friendly product label, in terms of circularity. For those interested in developing environmentally friendly packaging based on the principle of harnessing renewable resources, please contact foodbev_pkg@scg.com.
To further develop plastic resin innovations, SCGC processes domestic well-sorted and well-cleaned used plastics through mechanical recycling with a proprietary formula to create post-consumer recycled resin (PCR) that can be molded into packaging for a wide range of products. This will revive the value of used plastic and contribute to sustainable waste reduction following circular economy principles.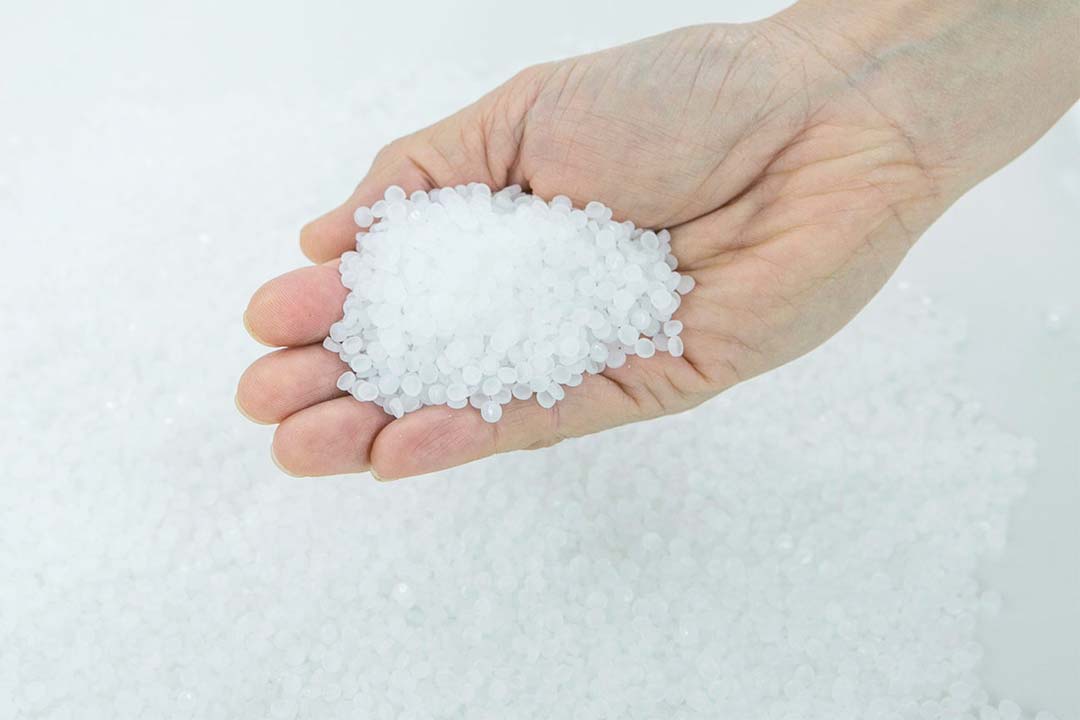 As a result of this success, leading product brand owners have taken notice of SCGC's plastic innovations. Notable examples include Unilever's dishwashing liquid gallons and Shell's lubricant gallons. This accomplishment has resulted in a new challenge in applying PCR in packaging for aromatic-scented personal care and home products, such as shower cream bottles, shampoo bottles, and laundry detergent bottles. The packaging bottles for Lion's 'Pao' liquid laundry detergent and Colgate-'Palmolive' Palmolive's shower cream products are among interesting examples. SCGC also designed packaging that enables consumers to trace the origin of the raw materials used to manufacture this PCR. The packaging has Global Recycled Standard certification (GRS). In addition to using less energy during production than conventional plastic resins, PCR contributes to a 70% reduction in greenhouse gas emissions.
Flexible packaging is another extensively used type for packaging. It is typically made from various materials, including nylon, BOPET film, and low-density polyethylene film (LLDPE film). This type of packaging comprises layers glued together, making recycling difficult due to the diverse types of components.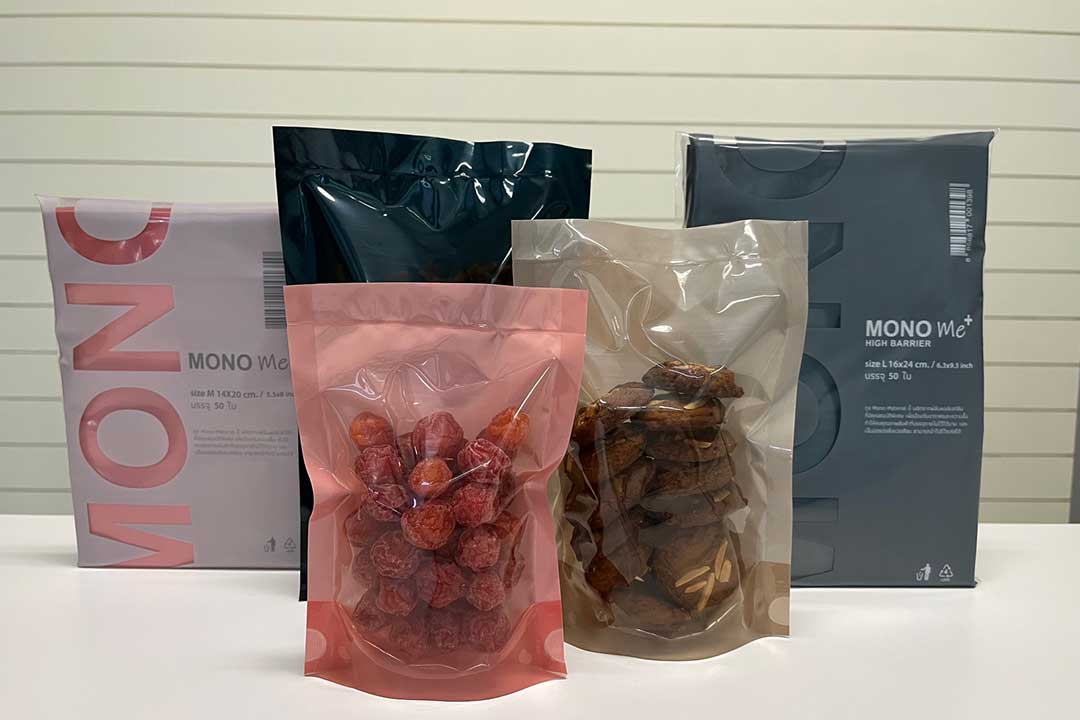 SCGC saw an opportunity to develop polymer materials that allow this sort of packaging to enter the resource circulation system efficiently. We had been committed to researching and spending more than three years developing SCGC Barrier Coating Technology "BWO1501G", a recyClass-approved anti-air permeability film coating technology that is the first coating agent in ASEAN that is compatible with recycling for polyethylene. As a result, Recyclable Packaging Solution can be utilized, making recycling more efficient and achieving circular economy and environmental goals.
Enhancing Healthcare with Innovative Medical Plastic
The rising average age of the world's population and the rapid speed of technological advancement have contributed to the continued expansion of healthcare and medical innovation businesses. It was estimated that the value of medical device sales in Thailand has increased by an average of 6.5% per year between 2021 and 2022, while the value of exports has increased by an average of 5% per year due to numerous supportive factors. Evidently, plastic solutions play an increasingly significant role.
SCGC, a regional leader in chemical innovations for sustainability, is committed to innovating plastics that meet health trends and developing medical-grade resins that meet international requirements. The following are some noteworthy highlights:
SCGC PP Melt-Blown is a high-value plastic resin that can be used to produce a face mask filter sheet. The innovation has been tested by leading institutes that it can produce fibers of 1-5 microns in diameter, which can filter out fine particles such as PM2.5 and germ more efficiently than 95% following international standards, with values that meet the requirements of the Public Health Ministry's Food and Drug Administration (FDA) (BFE ≥ 95% and PFE ≥ 95%).
VAROGARD is a series of antiviral products that improve the confidence of those at risk for respiratory infections, those who must engage in crowded activities, the patient, the elderly, and children. An intriguing feature of the SCGC's VAROGARD Antiviral Mask is that it is a disposable antiviral mask, a high-performance three-dimensional face mask with a viral and bacterial inhibitor coating patented by HeiQ Viroblock, Switzerland.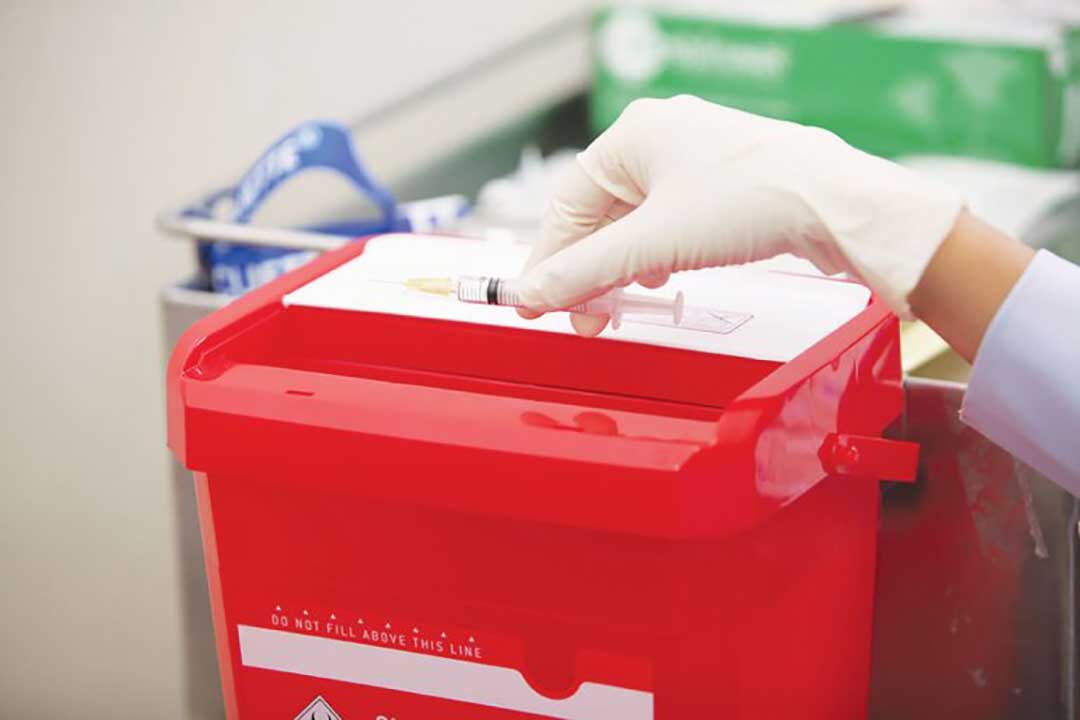 Sharps Disposal Bin is composed of special-grade polypropylene for thin-wall injection molding. It consumes less plastic while keeping the same strength, resulting in an 8% reduction in the bin's weight. It consumes less fuel for incineration, reducing carbon dioxide emissions by up to 32%. Designed with user safety in mind, it allows healthcare and public health workers to dispose of needles and syringes utilizing a one-handed operating technique, eliminating the risks associated with needle extraction. The innovation's rectangular design enables it to fit neatly in nurse carts and corners. The bin features handles for better portability while also keeping workers safe. It is also easy to assemble and space-efficient.
Smart Transfer Wheelchair is the medical innovation that SCGC and its business partners developed to improve patient wheelchairs. Designed with the ergonomics principle as a foundation, the metal frame was replaced with a canvas seat and a large metal wheel to better accommodate the patient's body. It has a cushion that provides lumbar support, preventing back strain from prolonged wheelchair use. The SCGC's proprietary foam is used to make the seat resistant to disinfectants and scratches so that it will not harbor infections or dirt. Functionally, it is designed to assist patient transfer. It is fitted with a foldable armrest that patients can use as needed for support. The footrest is designed to accommodate users with leg injuries and is adjustable through a footrest button. Similar to those found in automobiles, a three-point safety belt is also provided to increase safety when pushing patients along diverse routes. It is equipped with a rear brake system that allows staff to effortlessly control the wheelchair and push the patient ergonomically.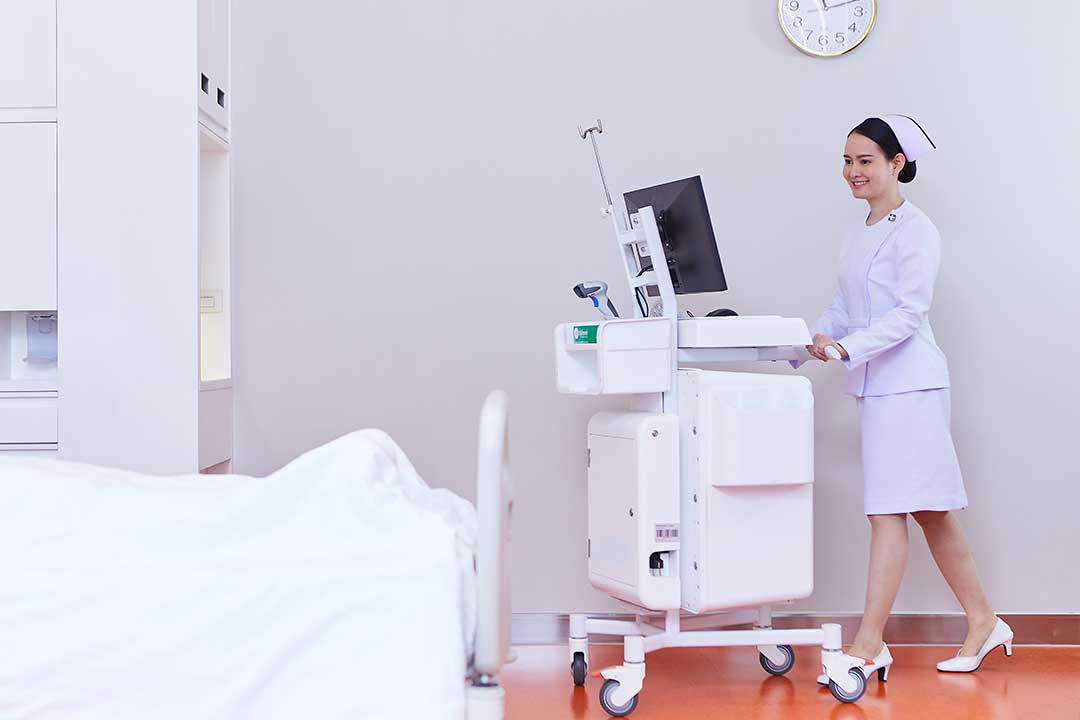 Smart Mobile Medication Cart is the medical innovation that SCGC teamed up with BDMS Group to develop a smart mobile medication cart with six compartments corresponding to the number of patients each nurse is responsible for. The technology has been integrated to connect hospital data systems to increase dispensing accuracy. It incorporates a compartment lock that necessitates verifying patient data before unlocking the compartment to load medication into the drawer and again for medication administration at the patient's wards. This reduces errors, increases accountability, and improves safety. This innovation is designed for medical professionals' convenience thanks to its optimal size and weight. It is equipped with a locking wheel, and the compartment height is designed to facilitate vertical storage of medicine vials, preventing sedimentation and spillage. It is also fitted with sensors that detect the opening and closing of the drawer and can measure the temperature and humidity within the compartment to maintain the prescribed temperature for the medication based on the standard.
High-quality Plastic Resin for Automotive of Future
SCGC, a regional leader in chemical innovations, recognizes the growing trend of the automotive industry. In response, it has collaborated with partners to develop special-grade resins that fulfill the requirements of specific automotive applications. Each type is differentiated by its durability, strength, and reduced weight. Two highlighting plastic grades from SCGC meet this megatrend are SCGC™ PP P765J and SCGC™ PP P1085J.
The most significant aspect of vehicle innovation is the development of safety technology. As a result, SCGC has developed resins with ultra-high impact resistance, high flow, high elongation, and ductility. It is designed to be ideal for making automotive parts with high impact resistance, such as door trims, front and rear bumpers, and instrument panels; even though it is utilized within the vehicle, drivers can drive safely with peace of mind. This is because plastic resins have minimal levels of volatile organic compounds (VOCs) and are safe for human health. And because it is lighter, it is appropriate for newer, lighter cars, such as electric vehicles powered by an electric motor. Due to its low weight, it consumes less fuel, generates less greenhouse gases, and is environmentally friendly.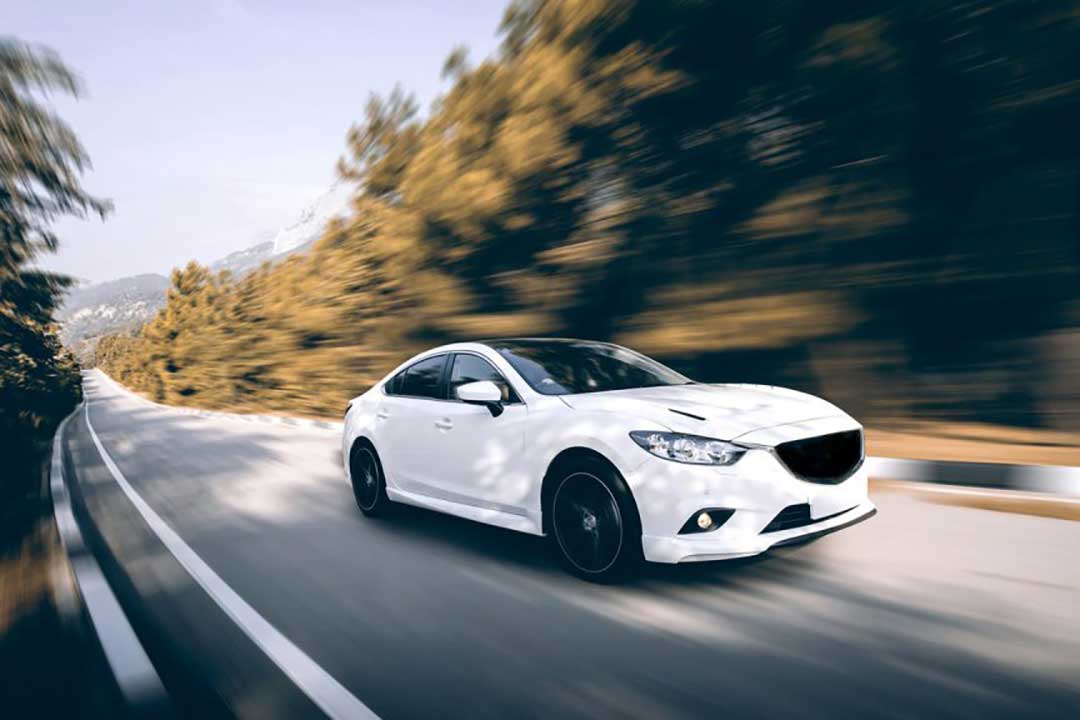 SCGC remains committed to researching and developing plastic innovations to improve people's lives in the society in addition to addressing all possibilities for unrelenting company growth while ensuring sustainable environmental stewardship.
Published on: Feb 9, 2023
(Visited 155 times, 1 visits today)