SCG Chemicals (SCGC), a leading chemical business for sustainability in Thailand and ASEAN, is introducing "Green Innovation"and the lineup of innovative chemical products that respond to the global megatrends under the theme "INNOVATION THAT'S REAL" at "K 2022", the world's no.1 trade fair for plastics and rubber, from October 19–26, 2022 in Dusseldorf, Germany. SCGC also partnered with Norner, a world-class leader in industrial polymer R&D services based in Norway, and the Alliance to End Plastic Waste (AEPW), the global non-profit organization, to hold the "Circular Packaging for Real"seminar, focusing on the global trends and solutions for environmentally friendly packaging.
Dr. Suracha Udomsak, Chief Innovation Officer and Executive Vice President – New Business, SCG Chemicals (SCGC), said K 2022 gathers more than 3,300 exhibitors from around the world. This year SCGC showcases a full lineup of chemical innovations under the concept "INNOVATION THAT'S REAL", innovating for all possibilities, aligning with the global megatrends, and focusing on the "Green Innovation". The green innovations are developed based on the circular economy principle, energy efficiency and greenhouse gas emissions reduction. SCGC is committed to developing High Value Added Products & Services (HVA) to serve the needs of five major industries with continuous growth and also in line with the global megatrends comprising of packaging, automotive, infrastructure, healthcare, and energy solutions.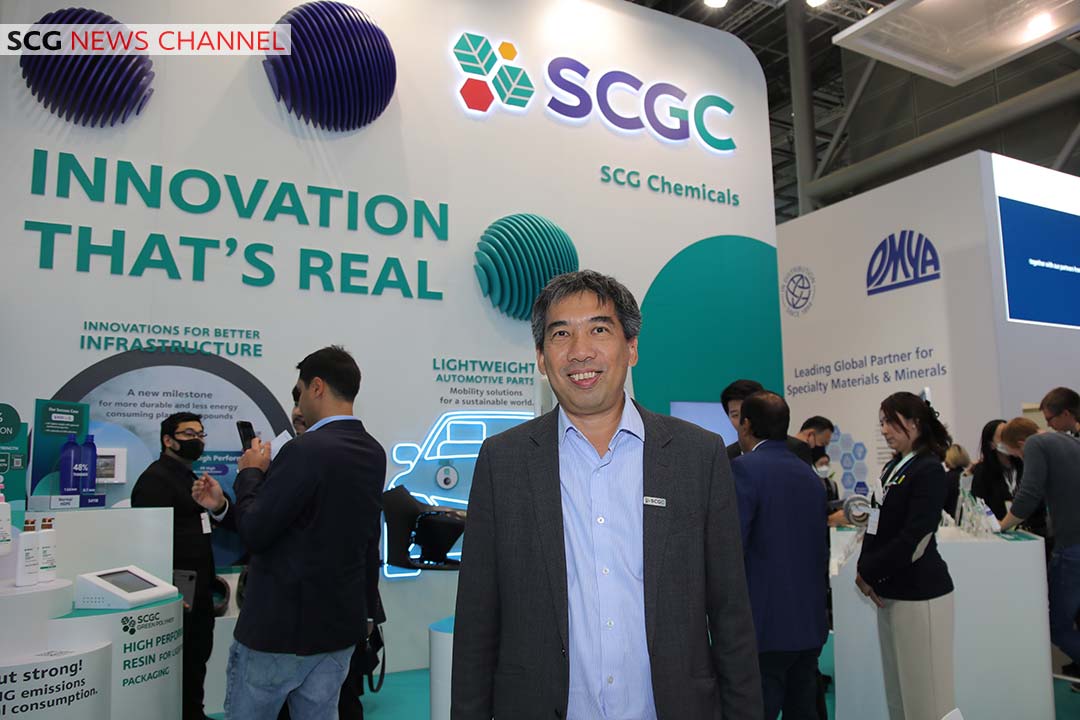 SCGC's highlights at K 2022 include the green innovation under the "SCGC GREEN POLYMER" brand for manufacturing eco-friendly packaging, maximizing resources. The brand has received a good response from leading brand owners in the industry. SCGC also showcases the innovative plastics and composites for producing lightweight automotive parts which help save energy. Moreover, SCGC Floating Solar Solutions well response to the surge of clean energy and adoption of renewable energy.
The Chief Innovation Officer and Executive Vice President of SCGC added that the development of High Value Added Products & Services (HVA) is one of SCGC's key strategies for business sustainability driven by research and development (R&D). Last year, SCGC spent 0.7% of its revenue from sales on R&D(1).The company has around 560 personnels in R&D and already registered a total of 473 patents as of December 31, 2021. SCGC has conducted research and development programs on multiple areas such as development of its own technologies and innovations, fostering strategic collaboration with partners in order to jointly develop innovations, expanding the network of collaboration on research and development with leading researchers and global research and development organizations such as Oxford University.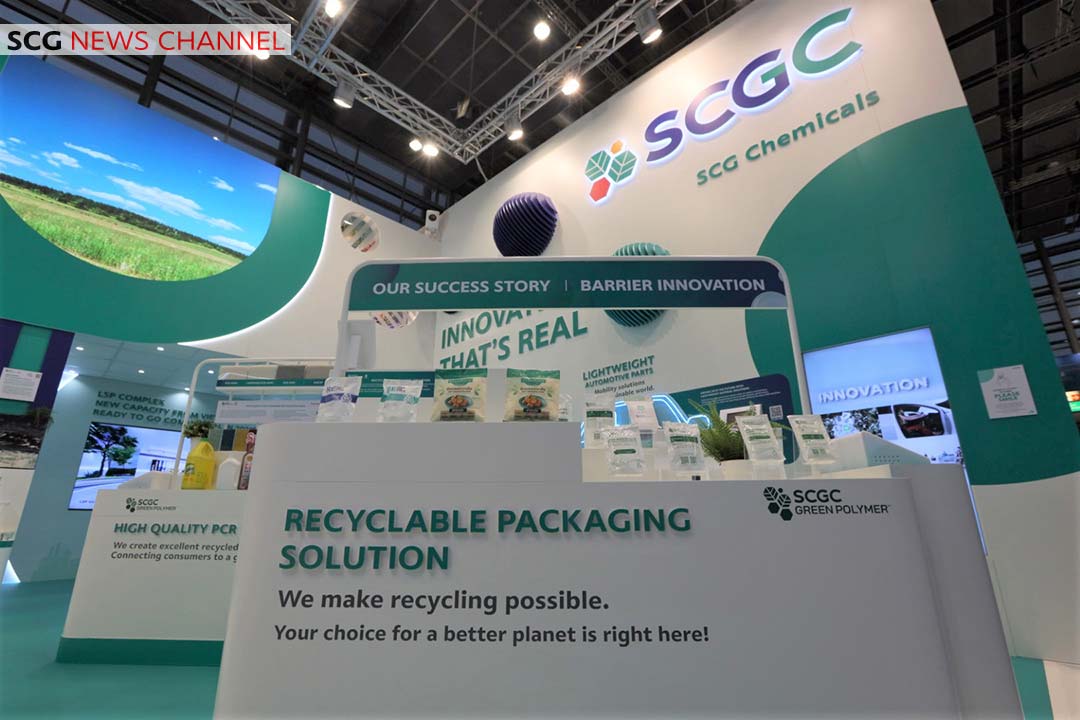 At K 2022 in Germany, SCGC also introduces i2P Center (Ideas to Products) for the first time on the world stage. The ideation center features a host of innovative ideas, expertise, and experiences to optimize production efficiency for customers, manufacturers of branded products, trade partners and organizations. The i2P Center also highlights the development of forward-looking innovations and solutions for all possibilities to accommodate the changing market landscape in the future. It is regarded as a fundamental to developing commercial innovation. Moreover, SCGC also introduced Long Son Petrochemical (LSP), the first integrated petrochemical complex in Vietnam, through using virtual tour to illustrate the latest development of the petrochemical complex in detail. The construction of the LSP recorded a good progress as planned and ready to go commercial in the second quarter of 2023.
In addition, SCGC held a seminar titled "Circular Packaging for Real" in collaboration with Norner, a leader of industrial polymer R&D services based in Norway, and the Alliance to End Plastic Waste (AEPW), the global non-profit organization that helps end plastic waste in the environment. The seminar discussed trends and solutions for producing eco-friendly packaging and fostered collective collaboration among stakeholders in the industry to come up with solutions for making sustainable packaging as well as frameworks for development of plastic innovations that are friendly to the environment in the foreseeable future. The thought-provoking seminar featured representatives from AEPW, Amcor, Erema, Norner, SCGC and Sirplaste.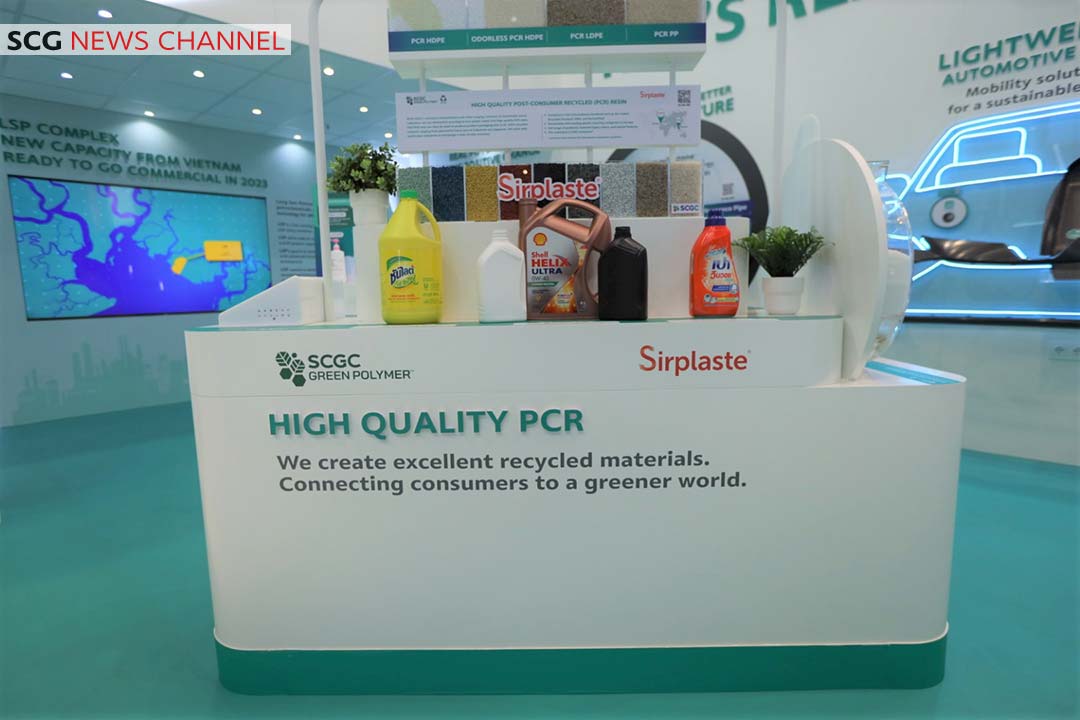 The number of visitors, innovation enthusiasts, trade partners and stakeholders in the industry, especially manufacturers of plastic and rubber products, at the event is expected at no less than 225,000 from 165 countries from around the world. Developers, brand owners, designers and specialists and experts from key industries such as automotive, packaging, consumer product, electrical and electronics, medical equipment, renewable energy, and infrastructure industries are expected to attend the event.
For more information on SCGC's plastic innovations and innovative chemical products for sustainable future, visit www.scgchemicals.com/kfair/k2022 Any inquiries, please contact www.facebook.com/SCGCOfficial
Published on: Oct 25, 2022
(Visited 192 times, 1 visits today)