SCG revealed its 2020 business strategies to transform construction and homebuilding experiences with products and service solutions driven by digital technology. The plan will deliver more convenient and speedy services, and address pain points of customers who have trouble finding the right contractors, materials, or high-quality work. Furthermore, SCG will focus on retails, with the launch of SCG HOME – Active OMNI-Channel designed for homeowners looking to build or renovate their homes. Co-Working Space, "CPAC Solution Center", will also be developed to serve as center for technicians and contractors looking for counseling services and construction technology solutions. With this vision, the whole construction business, including products, services, and distribution channels, will be completely transformed.
Mr. Nithi Patarachoke, President of Cement-Building Materials Business, SCG, revealed that for 2020 strategies, "SCG has developed 'Service Solution' including 'Construction Solution' and 'Living Solution' to cater the needs of technicians, contractors, and homeowners, both for new constructions and renovation projects. At the same time, the company has launched Active OMNI-Channel for retails to provide seamless online-offline experience for home building customers, allowing them to connect with our experts, products, and services anywhere and anytime. Moreover, the 'CPAC Solution Center' is a Co-Working space which will serve as a center for technology solutions for technicians and contractors. At SCG, we understand that customers and project owners in the construction and homebuilding market today do not only want high-quality products, they also expect products to meet their standards and stay within budgets. Also, if they lack experiences in constructions, they will need expert advice. Plus, access to products and services must be convenient and fast. Thus, we must strive to eliminate these pain points to meet the needs of our customers."
On Construction Solution, Mr. Chana Poomee, Vice President – Cement and Construction Solution Business of Cement – Building Materials Business, SCG, said that "nowadays, technicians, contractors, and project owners need technology that helps them manage costs more efficiently and save construction time. Also, they want expert advice on various technical aspects. Thus, SCG has developed Construction Solution which is a new business model called Solution for Life. This solution will upgrade the whole ecosystem of construction businesses, allowing technicians and contractors to deliver better output, with no more high costs, delays, or products that miss standards. With less of these 'wastes', they will surely enjoy greater 'wealth'." These can be achieved with the use of 1) construction technology and 2) personalized solution where solutions are developed with a customer-centric approach to address each customer's specific problems and needs. Also, "CPAC Solution Center" is established as the first Co-Working Space in Thailand for people in construction businesses to exchange knowledge, give advice, and provide construction solutions. CPAC helps strengthen information platform and connect with innovations and technologies garnered from network partners in construction businesses in the form of Open Innovation to help solve various issues. BIM (Building Information Modeling) technology is also applied in designing process for a high-quality work that effectively reduces the use of natural resources. These are key strategies for a full-scale upgrade of construction businesses." concluded Mr. Chana.
On "Living Solution", SCG found that apart from construction problems, customers today also face with home living issues, be they heat, dust, and home safety for the elderly. SCG has cooperated with its partner networks in building knowledge to introduce key home living solutions. These include, first, comfort-living solutions to solve problems regarding heat, creating comfort living condition in the house. Second, energy solutions, SCG developed SCG Solar Roof Solutions to offer clean energy that helps reduce electricity bills and the use of national resources for customers. Third, safety solutions include, for example, space design solution for the elderly. In the future, there will be more and more home-living solutions gradually launched into the market.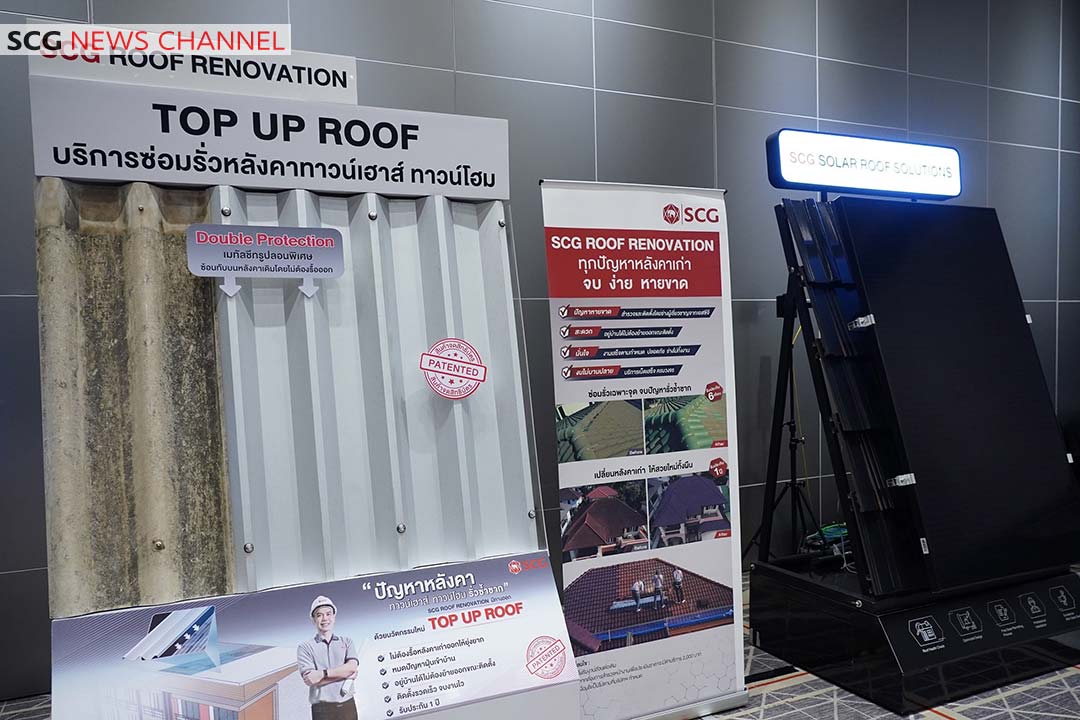 Another living solution is solution for renovations and repairs. SCG has launched the roofing solution, "SCG Roof Renovation", providing repairing services for old roofs, roof leakages, and roof painting. Drone technology is used for site exploring for a more convenient, speedy, and safe services. SCG also developed Smart Application to replicate and estimate costs from photos, enabling customers to receive quotations faster.
Mr. Nithi also added on another key strategy, which is to penetrate into retail businesses via Active OMNI-Channel, that "traditional retail stores are channels to sell products supplied by manufacturers. Although there are these kind of stores throughout the country, customers still have trouble of where to find products and services. Plus, almost 100% of customers today, who are looking to build a home, starts searching for information from online channel. They also switch between searching online and visiting stores for as long as 6 months before they can finally make a decision to purchase products. SCG thus launched its Active OMNI-Channel retail stores called SCG Home to solve those problems. SCG Home seamlessly connects online and offline stores via digital technology to offer a convenient, confident, worry-free home-building experiences for customers by allowing easy access to products and services, anywhere and anytime, 24 hours. Customers have no need to restart the whole process of searching information or talking to staffs as all customer information will be continually stored. SCG has also introduced retail technology such as Virtual Reality (VR) technology that allows customers to see various virtual plans of their homes designed by SCG. If customers wish to see the real products, they can visit their neighbor SCG HOME. Moreover, SCG has developed a network of technicians trained by institutions. Thus, customers can be confident in the installation standard, as well as logistics, as SCG has a nationwide network of over 840 construction material transport companies. At this moment, SCG is well-equipped with products, services, technology, and partner networks to penetrate into retail businesses. Customers can rest assured in services provided by SCG. " concluded Nithi.
If you are interested in our service, please reach SCG HOME Contact Center at 02-586-2222 or visit www.scgbuildingmaterials.com or https://scgnewschannel.com / Facebook: scgnewschannel / Twitter: @scgnewschannel หรือ Line@: @scgnewschannel
(Visited 1,042 times, 1 visits today)