SCG's profit rose by 15% in Q2/2021 compared to the previous quarter due to higher sales volumes, global economic recovery which drove up chemical product prices, and efficient product distribution at home and abroad. SCG has introduced "Bubble & Seal" measures to combat the Delta variant of COVID–19, maintained strict safety measures for employees and production facilities, and prepared hospitel accommodations and home isolation guidelines for employees to mitigate the burden on public health. SCG aims to achieve long–term growth by adapting to market changes using digital technologies and online platforms, capture home renovation trends, develop innovative high–quality recycled plastic resins, enter into the circular economy business, and expand the packaging business. SCG assists business partners by extending payment deadlines and offering COVID–19 innovations that support healthcare professionals as well as save patients' lives. SCG also provides platforms for SMEs and communities to sell merchandises online in efforts to keep small businesses afloat during the resurgence of COVID–19.
Mr. Roongrote Rangsiyopash, President and CEO of SCG, discloses that "The Company's unreviewed Operating Results for Q2/2021 registered Revenue from Sales of 133,555 MB, an increase of 39% y-o-y, mainly from higher chemicals selling prices in-line with the higher in oil price and an increase of 9% q-o-q due to contribution from all businesses, capacity addition, particularly Chemicals business which recorded higher product prices as well as sustainably high polyolefin sales volume despite freight tightness situation. The Profit for the Period reached 17,136 MB, an increase of 83% y-o-y, largely attributable to improved Chemicals product spreads and equity income. And it reported 15% q-o-q increase in earnings, attributed to higher chemicals spreads.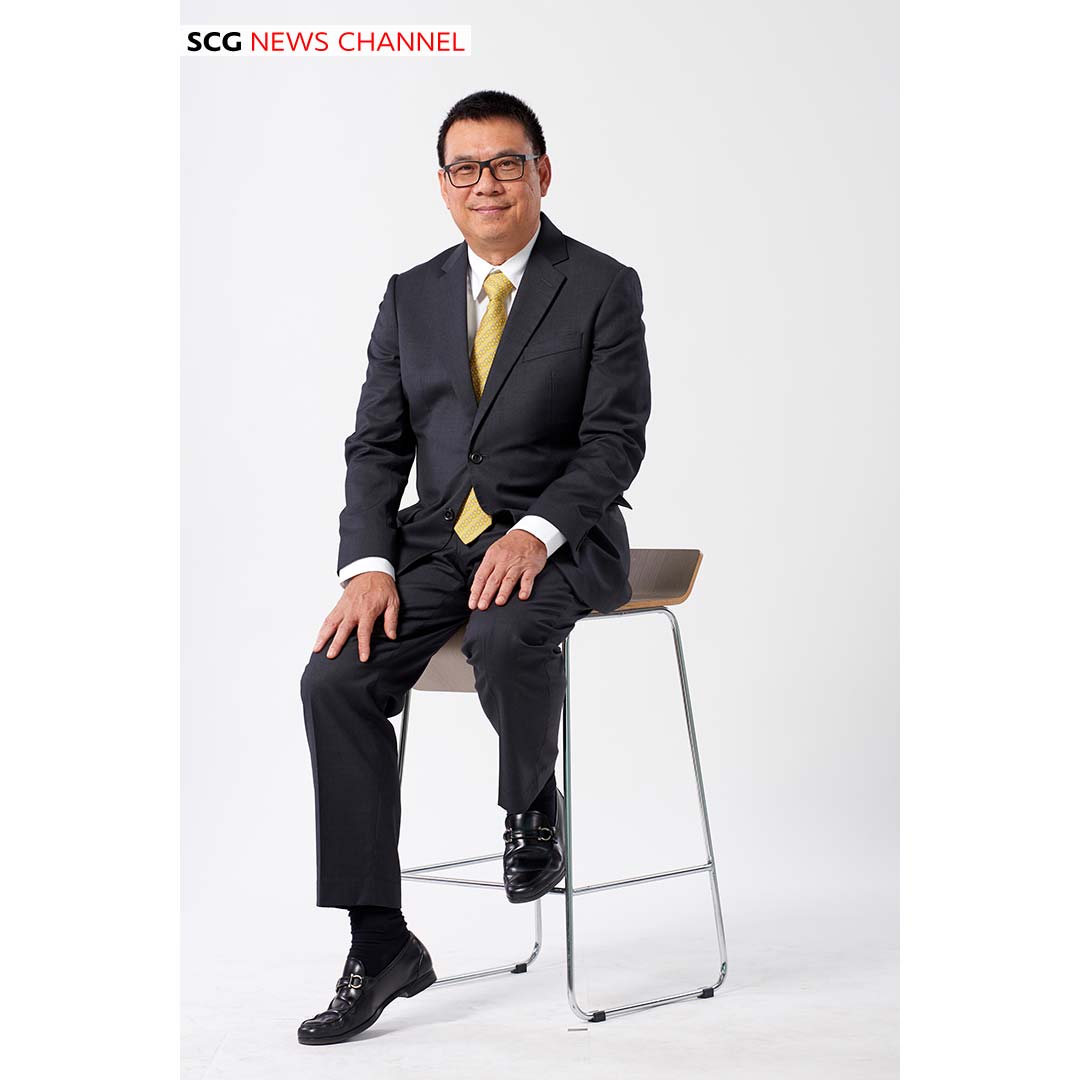 SCG's Revenue from Sales for the first half of 2021 rose 27% y-o-y to 255,621 MB. These were mainly attributable to the higher Chemicals selling prices.  Profit for the Period increased 96% y-o-y to 32,050 MB on the back of improved chemicals product spreads and equity income.
SCG's Revenue from Sales of High Value Added Products & Services (HVA) for H1/2021 reached 86,861 MB or 34% of total Revenue from Sales. New Products Development (NPD) and Service Solution such as Solar Energy Solution, Smart and Functional Solution, made up 15% and 5% of total Revenue from Sales respectively.
SCG's Revenue from operations outside of Thailand together with export sales from Thailand  for H1/2021 registered 112,272 MB. This constituted 44% of total Revenue from Sales, an increase of 30% y-o-y.
The total assets of SCG, as of June 30, 2021, amounted to 812,051 MB, of which 39% represented assets in ASEAN.
The Q2 and first half of 2021 operating results by business units are as follows:
Chemicals Business recorded Q2/2021 Revenue from Sales of 60,740 MB, increased 75% y-o-y and 18% q-o-q due to higher product prices. Profit for the Period reached 10,392 MB, an increase of 128% y-o-y from higher product spreads and equity income from associates and an improvement of 18% q-o-q mainly from higher product spreads.
The H1/2021's Revenue from Sales of Chemicals Business reached 112,347 MB, increased 54% y-o-y due to higher product prices. Profit for the Period increased 203% y-o-y to 19,221 MB from higher product spreads and equity income.
Cement–Building Materials Business recorded Q2/2021 Revenue from Sales of 46,416 MB, an increase of 9% y-o-y and 1% q-o-q thanks to export sales to ASEAN and Non-ASEAN markets as well as higher domestic demand for building materials from renovation projects. Profit for the Period grew 27% y-o-y resulting mainly from recognition of assets impairment totaling 699 MB in Q2/20, and decreased 12% q-o-q to 2,468 MB.
The H1/2021's Revenue from Sales of Cement-Building Materials Business reached 92,601 MB, increased 4% y-o-y. Profit for the Period increased 12% y-o-y to 5,277 MB.
Packaging Business recorded Q2/2021 Revenue from Sales of 29,895 MB, increase of 38% y-o-y mainly due to the improved demand in many countries, while the ASEAN export sectors saw recovery as there were improvement in the consumer sectors in US, and Europe, and the business expansion from organic as well as inorganic growth, and increase 10% q-o-q. Profit for the Period grew 19% y-o-y and
6% q-o-q to 2,263 MB.
The H1/2021's Revenue from Sales of Packaging Business reached 57,148 MB or increased 24% y-o-y mainly from business growth from inorganic Merger & Partnership (SOVI, Go-Pak) as well as organic expansions. Profit for the Period increased 21% y-o-y to 4,398 MB."
Roongrote added, " The global COVID-19 situation is highly uncertain, particularly in ASEAN, where the Delta variant has caused a surge in infections. Many countries have reinstated stringent measures aimed at curbing the viral spread. SCG has accordingly stepped up its measures to maintain business continuity. Examples include moving from the "Egg Yolk, Egg White" measure, which isolates employees on the production line from contact with general employees, to the "Bubble & Seal" measure in plants at home and abroad. "Bubble & Seal" involves regularly and proactively doing Covid-19 screening, sealing off a risky area, and providing accommodation within the plant. In addition to providing hospitel to infected employees to ensure quick and safe treatment, SCG also gives affected personnel guidelines and suggestions for effective home isolation to curb the transmission of COVID-19. Additionally, SCG has adapted its business strategies to drive sales to markets less impacted by Covid-19 pandemic as well as increase its reliance on e-commerce. Meanwhile, packaging business has expanded the business through merger and partnership (M&P) and fostered collaborations in the use of High Quality Post–Consumer Recycled Resin (PCR) by converting household post-use plastic packaging bottles into new packaging bottles for the first time in Thailand, accelerating SCG's entry into high-growth circular economy trend. SCG has also made entry into automation business to provide customers with automation solutions to help boost productivity and propel the Thai industry into Smart Factory 4.0. These measures enabled SCG's operating performance in Q2 and H1/2021 to improve despite the ongoing regional economic slump.
Moreover, the Board of Directors of SCC has approved SCG Chemicals Company Limited (or "SCG Chemicals"), a wholly owned subsidiary of SCC, to subscribe to the equity rights issuance of PT. Chandra Asri Petrochemical Tbk (or "CAP") in Indonesia for 434 million USD (or approximately of 14,260 million Baht) to maintain a 30.57% stake in CAP, which will be used to develop the second petrochemical complex, CAP2. We view CAP as a strategic investment in expanding chemicals business in Indonesia which has the largest and high-growth chemicals market in ASEAN.
SCG is deeply concerned about the situation and has consistently lent its support to the public in many aspects including assisting its business partners that have been affected. To ensure that its business partners can continue to function, SCG has extended the payment due date and provided consultation on digital technologies adoption for plant management. Furthermore, SCG teams up with business partners to establish facility within construction sites to facilitate COVID-19 isolation and treatment, as well as provide basic necessities to construction workers. SCG also provides platforms for SMEs to sell merchandise via SCG stores, SCGHOME.com, and partner channels to help keep small enterprises afloat during the Covid-19 pandemic.
SCG consistently leverages its expertise to create innovations for COVID–19 treatment and prevention. Amid the ongoing surge of infections, SCG has supplied over 60,000 field beds made from paper in Thailand and abroad in response to a shortage of hospital field beds. SCG has also donated 60 intensive care unit (MODULAR ICU) beds, as well as 10 emergency room (MODULAR ER) beds. The donations have been made with the intention to protect healthcare professionals and support the recovery of Covid-19 patients. SCG has also assisted over 300 SMEs and communities in occupational improvement, product development, and sales channel expansion to enable revenues creation. I would like to encourage everyone to help purchase SMEs' products. We can lead our country out of crisis if we help each other."
Meanwhile, Chemicals Business continues to thrive in Thailand and abroad by optimizing and proactively managing product and sales destination mix in accordance with market situation while speeding up its transformation to high-growth circular economy business. This follows the "Chemicals Business for Sustainability" roadmap which adheres to ESG (Environmental, Social, Governance) standards and offers customers HVA products and services as well as one-stop solutions that are environmentally friendly. SCG recently partnered with Unilever to develop and convert Unilever's post-use HDPE plastic packaging into recycled HDPE (rHDPE), marking the first time post-use plastic is recycled into new packaging items in Thailand. This has been made possible by the use of High Quality Post-Consumer Recycled Resin (PCR) innovation developed under the brand "SCG Green PolymerTM".
Furthermore, the petrochemical complex Long Son Petrochemicals Company Limited (LSP) in Vietnam has progressed and reached 83 percent completion as planned, with commercial operations on track to commence in the first half of 2023.
The Cement–Building Materials Business has been negatively impacted by slowing demand caused by the resurgence of Covid-19 and resulting lockdown. In response, the business has shifted its distribution strategies, focusing on less–affected markets in Thailand and abroad as well as increasing online sales at SCGHOME.com. The business also offers HVA products, services, and solutions to cater to consumers' appetite for better housing and to respond to growing health, hygienic, and environmental trends. At the same time, the business continues to place a strong emphasis on improving productivity via the use of digital technology aligned with Industry 4.0 guidelines to control costs, minimize resource consumption, and promote long-term growth.
Packaging Business plans to achieve steady and continuous growth by tapping into new customer bases across a variety of industries, expanding product portfolio, investing in research and innovation development, improving operational processes, and refining business model. The business prioritizes effective cost management, capacity expansion, and merger and partnership (M&P). This M&P target include: Duy Tan Plastics Manufacturing Corporation (Duy Tan), which will allow for SCGP's expansion of rigid packaging business in Vietnam. Packaging business is currently in talks to invest in two companies, with conclusion expected in the third quarter of this year including Intan Group, which will enable expansion of paper packaging business in Indonesia; and Deltalab S.L.,
in Spain which will support Packaging business expansion into healthcare and medical business to cater to health and wellbeing megatrend.
Packaging business has stepped up its measures to control the spread of COVID-19 in raw materials procurement, production, and transportation. The business has adapted its strategy to the constantly changing market dynamics. To thrive, Packaging business has optimized its production plan, modified logistical strategy, and implemented effective cost control to ensure the on-time delivery of packaging solutions that are safe to its customers.
In addition, The Board of Directors of SCG has approved an H1/2021 interim dividend payment of 8.5 Baht per share (10,200 MB), which is payable on August 27, 2021, XD-date on August 13, 2021 and record date on August 16, 2021." Mr. Roongrote concluded.
(Visited 398 times, 1 visits today)