"SCG Roof Tile" continuously penetrates into the old-house roof market. They have continued to upgrade "one-stop service for old roofs" for single-detached houses and townhouses across the country. Drone technology is used to help customers inspect roof problems. A new service – SCG Roof Repaint is launched to meet old roof customers' demand for beautiful roof renovating at an affordable price. Target sales of SCG roof renovation are expected to grow 100% from last year.
Mr. Dayin Kiatkwankul, Marketing Director – Roof Business of CPAC Roof Tile Company Limited in SCG, revealed that "SCG Roof Renovation has been providing roof repairs and roof replacement services for single-detached houses and townhouses located in the Bangkok Metropolitan area only. However, around the end of 2019 SCG Roof Renovation expanded the roof repair services countrywide, starting from the Eastern region, to meet a rising old household rooftop demand. Our goal is to provide services in main cities across the country within March 2020. For an overall older-house market which is worth 234,000 million Baht, there are more than 23.4 million houses that are at least 10 years old, with an average increasing of 400,000 houses per year.
"SCG Roof Renovation has continuously improved our products and services in every step to meet the User Experience (UX)demand. Firstly, if customers are interested in the initial price, our service is available at no cost; our team has developed a satellite imaging technology that is integrated with SCG's price estimation program. This allows customers to survey the initial price of changing the whole roof by visiting the website https://raes.scg.com. Recently, the team has developed a drone technology for a clearer and more speedy roof exploring service. As a result, customers receive the quotation faster and the roof service team can plan for the production and transportation more accurately as well," said Mr. Dayin.
In addition, "SCG Roof Renovation" launched a new SCG Roof Repaint service to meet a variety of customers' demands, including self-owned detached old houses and pre-owned houses. These customers require old roofs to be repainted without demolition or replacement. Moreover, due to their fast-paced lifestyle, customers need a quicker service with reasonable pricing. Therefore, SCG Roof Repaint eases these concerns by providing 3-step service as follows. 1) Roof washing using a high-pressure washer specifically designed for roofing applications with reduced water diffusion. It can quickly wash dirt out of the roof without disturbing the neighbors. 2) Based coating for better adhesion of the true color. 3) Double coating of the roof using the same color paint as the SCG roof tile factory to ensure color quality and work standard.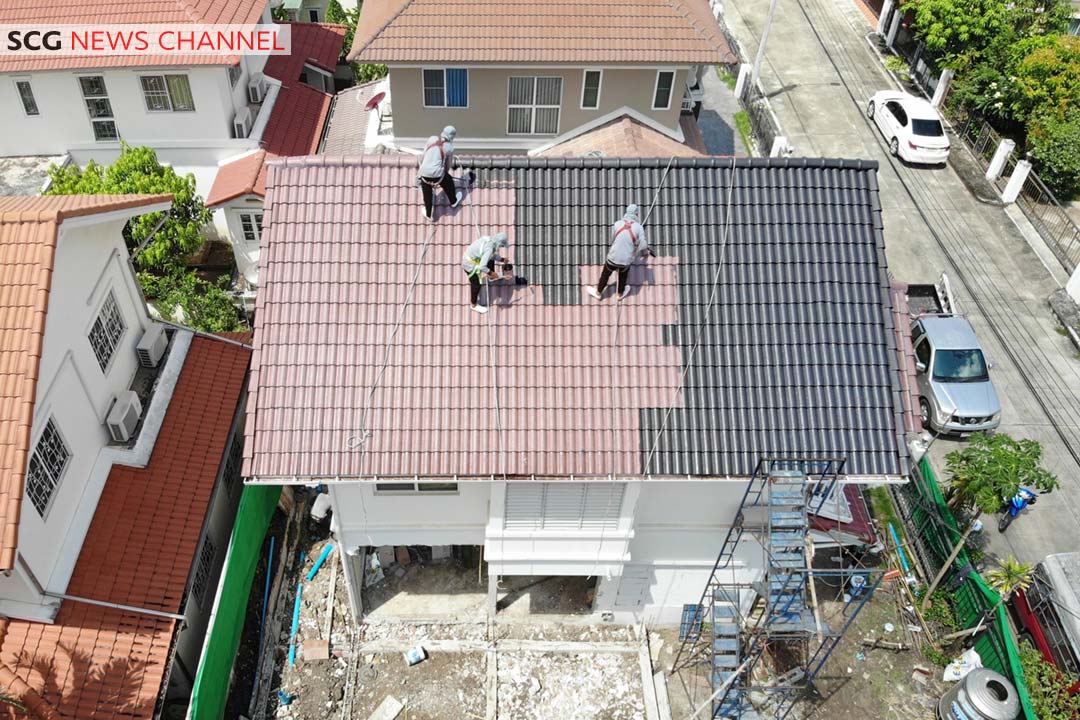 "SCG Roof Renovation" is determined to provide new innovations to meet customers' demand and comfort. In 2020, we anticipate "SCG Roof Renovation" sales growth at a rate of 100% from last year, and anticipate to be a leader of the 234,000 million Baht in roof renovation market," said Mr. Dayin.
 Any homeowner who has a roofing problem may seek counseling at SCG Home Solution across the country, SCG Experience at the Ekkamai-Ramintra branch, SCG HOME Contact Center, Tel. 02-586-2222, or browse to https://roofexpert.scgbuildingmaterials.com/service/renovate and SCG Brand Facebook page.
For those who are interested in SCG's movement, Please browse http://scgnewschannel.com and Facebook: scgnewschannel or Twitter: @scgnewschannel or Line@: @scgnewschannel for further information.
(Visited 805 times, 1 visits today)
ดาวน์โหลดข่าว